Barijodeel - 100 TB by Heel/BHI Homeopathics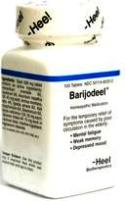 This product has been discontinued
SKU: HEE065
MPN: 1302040
UPC: 787647100736
Barijodeel 300 mg - 100 TB BHI HEEL
Indications:
Arteriosclerosis, particularly cerebral sclerosis; Iymphatic.

Composition:
Baryum carbonicum 12X, Ignatia 6X, Stramonium 4X, Kalium phosphoricum 6X, Arnica 4X ana 30mg; Causticum Hahnemanni 6X, Anacardium 6X, Aconitum 12X ana 45mg; Calcium jodatum 4X 15mg.

Dosage:
In general, 1 tablet dissolved under the tongue 3 times daily.

Form in which supplied and package size:
Bottle containing 100 tablets.

Pharmacological and clinical notes
Constituents Indications
Baryum carbonicum
(barium carbonate) Senile dementia, arteriosclerosis, tinnitus aurium, Iymphatism.
Ignatia
(St. Ignatiu's bean) Exogenous depression, sensation of globus,  lability of mood, migraine.
Stramonium
(thorn apple) Conditions of excitation, disorientation:  plethora, reddened and turgid face, tremors, waking with a start, dizziness.
Kalium phosphoricum
(potassium phosphate) Remedy for affections of the cerebral function, improves memory in arteriosclerosis dizziness, tinnitus aurium.
Arnica
(leopard's bane) Remedy for vascular diseases, post-apoplectic paresis and myalgia
Causticum
(Hahnemann's
)
Paresis (post apoplectic), tinnitus aurium
Anacardium
(Malacca nut) Deficiency of memory, hunger pains.
Aconitum
(monkshood) Vascular tone, anxiety, restlessness, cardiac pain, a feeling of being near death in angina pectoris.
Calcium jodatum
(calcium iodide) Arteriosclerosis, goiter, scrofulous glands, deficiency of memory.
Based on the individual homeopathic constituents of Barijodeel, therapeutic possibilities result for the treatment of arteriosclerosis, arteriosclerotic dementia, restlessness of the motor area and insomnia, somnambulism which cannot be remembered in the morning, deficiency of memory in old age and vertigo due to arteriosclerosis (with Vertigoheel), post-apoplectic paresis, tinnitus aurium, scrofulous swelling of the glands, disturbance of growth and of mental development in children. Barijoheel should find application routinely for all older patients in accordance with the treatment or at intervals with additional remedies such as Vertigoheel, Aurumheel, Cralonin, Galium-Heel, Hepeel, Nux vomica-Homaccord, etc. The dosage is adjusted according to the disease, the symptoms and the stage of the illness: 1 tablet 3-4 times daily. For acute disorders brief shock therapy: 1 tablet dissolved on the tongue every 15-30 minutes.
For the temporary relief of symptoms caused by poor circulation in the elderly:
Mental fatigue
Weak memory
Depressed mood
Active Ingredients: Each 300 mg contains: Anacardium orientale 6X 45 mg, Causticum 6X 45 mg, Aconitum napellus 12X 45 mg, Arnica montana, radix 4X 30 mg, Ignatia amara 6X 30 mg, Kali phosphoricum 6X 30 mg, Stramonium 6X 30 mg, Baryta carbonica 12X 30 mg, Calcarea iodata 4X 15 mg
Inactive Ingredients: Magnesium stearate USP, Lactose USP
Top Sellers