Atrium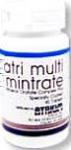 A unique mineral complex that is specially coated to prevent premature breakdown.

Enhances liver functioning and promotes overall cardiovascular and urogenital health.

Important for DNA synthesis and is valuable in helping prevent neural tube birth defects.



Lowers cholesterol, improves circulation, and supports the functions of many organ systems.


Unique complex that is delivered to specific sites in the body for optimal absorption.

Beneficial for cardiovascular health and helps to reduce symptoms associated with depression.


This product has been discontinued

Facilitates the movement of blood sugar into muscle cells and also assists in muscle tissue recovery.