Candida Heavy Metal Detox - 2 fl oz by Aquaflora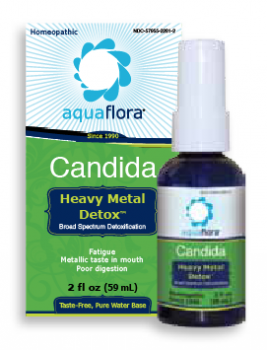 List Price:
$25.99
Sale Price:
$23.40
You Save:
()

SKU: KBIOCR014
MPN: 20-2281

In Stock
Usually ships within 24 hours
Free Shipping on orders of $150 or more
16 Strains of Nano-Potentiated™ Probiotics designed to maximize the body's ability to restore and maintain a healthy balance of beneficial microorganisms. Ultimately, this may decrease and potentially eliminate the number and frequency of probiotic supplements needed to maintain healthy intestinal flora. 9 Bowel Nosodes to eliminate the toxic microorganisms that accumulate within the intestines.
Heavy Metal Detox™
Heavy Metal Detox™ contains 26 Homeopathic HPUS Ingredients to address heavy metal toxicity.
"Heavy metals" is generally used as a term referring to metals that can be toxic to human health, such as mercury, cadmium, and lead. In modern life, unfortunately, we are constantly exposed to toxic metals, and they can cause numerous symptoms. Candida and heavy metal toxicity often go together, and Aquaflora addresses this connection.
Symptoms of heavy metal toxicity include:
Fatigue, exhaustion, confusion
Metallic taste in mouth
Sore throat
Unhealthy skin
Rheumatic stiffness
Twitching muscles
Drowsiness or sleeplessness
Minor anxiety, headache
Poor digestion, stomach pain, nausea
Top Sellers