Testis Compositum - 100 TB by Heel/BHI Homeopathics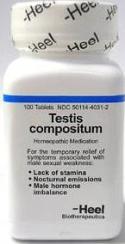 This product has been discontinued
SKU: HEE765
MPN: 1302323
UPC: 787647201044
Testis Compositum 300 mg 100 tablets BHI-HEEL
Ingredients per tablets:
Aralia quinquefolia 4X, Testis suis 4X, Agnus castus 6X, Ascorbicum acidum 6X, Caladium seguinum 6X, Kali picricum 6X, Strychninum phosphoricum 6X, Cantharis 8X, Cor suis 8X, Curare 8X, Damiana 8X, Embryo totalis suis 8X, Manganum phosphoricum 8X, Phosphorus 8X, Diencephalon suis 10X, Ferrum phosphoricum 10X, Magnesia phosphorica 10X, Selenium metallicum 10X, Zincum metallicum 10X, Glandula suprarenalis suis 13X, Cortisone aceticum 13X, Conium maculatum 28X, Lycopodium clavatum 28X 3 mg each in a lactose base.
Suggested use:
Adults and children above 6 years: 1 tablet sublingually or dissolved completely in mouth 3 times daily or as directed by a physician. Infants and children to 6 years: 1/2 the adult dosage.
For the temporary relief of symptoms associated with male sexual weakness:
Lack of stamina
Nocturnal emissions
Male hormone imbalance
Active Ingredients: Each 300 mg contains: Aralia quinquefolia 4X 3 mg, Testis suis 4X 3 mg, Agnus castus 6X 3 mg, Ascorbicum acidum 6X 3 mg, Caladium seguinum 6X 3 mg, Picricum acidum 6X 3 mg, Strychninum sulphuricum 6X 3 mg, Cantharis 8X 3 mg, Cor suis 8X 3 mg, Curare 8X 3 mg, Damiana 8X 3 mg, Embryo suis 8X 3 mg, Manganum phosphoricum 8X 3 mg, Phosphorus 8X 3 mg, Diencephalon suis 10X 3 mg, Ferrum phosphoricum 10X 3 mg, Magnesia phosphorica 10X 3 mg, Selenium metallicum 10X 3 mg, Zincum metallicum 10X 3 mg, Cortisone aceticum 13X 3 mg, Glandula suprarenalis suis 13X 3 mg, Conium maculatum 28X 3 mg, Lycopodium clavatum 28X 3 mg
Inactive Ingredients: Magnesium stearate USP, Lactose USP
Top Sellers