L-Carnitine - 250 MG - 40 TB by Allergy Research Group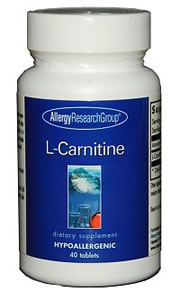 This product has been discontinued
Also Available:
L-Carnitine Free Form Amino Acid (Hypoallergenic) 250 mg 40 Tablets by Allergy Research Group, Nutricology.
L-carnitine supports fat metabolism and cardiovascular health by enhancing the conversion of fat into cellular energy.* L-carnitine functions as a carrier for the transport of fatty acids into the mitochondria of the cell. It is considered a semi-essential nutrient in that its synthesis in the body (from lysine, methionine, B1, B6 and iron) is complex and may be hindered in individuals who are nutritionally compromised (for example, strict vegetarians). Free form amino acid, high purity, well tolerated, and in tablet form to insure potency.
Suggested Use: As a dietary supplement, 1 to 4 tablets daily with meals, or as directed by a healthcare practitioner.
Serving Size 1 tablet
Servings per container 40
Amount per serving:
L-Carnitine 250 mg
Other ingredients: Cellulose, dicalcium phosphate, silicon dioxide, magnesium stearate, stearic acid.
This nutrient is of the highest quality and purity obtainable, free of all common allergens (antigens), and does not contain preservatives, diluents, or artificial additives.
Keep in a cool, dry place, tightly capped. #70640