NuScience
Cellfood
Fibromyalgia Study

Improves cell health by increasing the amount of food and oxygen each cell receive.

Provides nucleic acid bases that are necessary for protein synthesis and for healthy development.

Promotes healthy bones, joints, muscles, hair, teeth, nails, gums, and connective tissue.

Supplies critical nutrients, in a biologically active form, for increased absorption and assimilation.

Proprietary formula that will promote healthful weight loss, even during sleep.

Decreases the appearance of fine lines and helps to nurture damaged skin.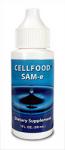 Encourages hormone regulation and enhances neurotransmitter activity for improved mood.