3A Calcium aka AdvaCal - 167 MG - 150 CP by Lane Labs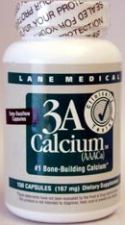 SKU: LAN050
MPN: CAL3A-1000

3A Calcium - aka AdvaCal 167 MG - 150 CAP by Lane labs, Lane medical
Ingredients per 3 capsules:
Elemental calcium 500 mg (From Calcium Hydroxide and Calcium Oxide) HAI Amino Acid Extract 1 mg (From Sea Algae.)
Other Ingredients: Citric Acid, Magnesium Stearate, Gelatin.
Suggested use:
For maximum benefit take three capsules in the morning, three capsules in the evening, preferably with meals.
This product is available to Health Care Professionals. Lane Medical is not available in Health Food Stores.
This product is the professional version of AdvaCAL.
During August and September 2008 the Townsend Letter will be discussing 3A Calcium Ultra effectiveness in bone building.
Supplement Facts
Serving Size: 3 capsules
Servings Per Container: 50
Amount Per Serving
% Daily Value
Vitamin D3 (cholecalciferol)
500 IU
125%
Calcium (as calcium hydroxide & calcium oxide)
500 mg
50%
HAl Amino Acid Extract (from sea algae)
+
*Daily Value Not Established
Other Ingredients: Gelatin, citric acid, croscaremllose sodium, microcrystalline cellulose and magenesium stearate.
The #1 Bone-Building Calcium

3A Calcium (AAACa) is a patented, ionic calcium from Japan comprised of calcium oxide and calcium hydroxide. AAACa also is pontentiated with HAI (heated algal ingredient), a patented amino acid complex from super-heated hijiki seaweed. Tiny amounts of HAI have been scientifically show to significantly increase calcium absorption. In one study, the improvement was up to 4X greater. These two patented, natural ingredients are only available in 3A Calcium.

3A Calcium provide superior calcium absorption and parathyroid modulation. Backed by 20 years of clinical research and 30 published, scientific articles, 3A Calcium has shown consistent, significant increases in bone density.