Wobenzym N - 800 TB by Douglas Laboratories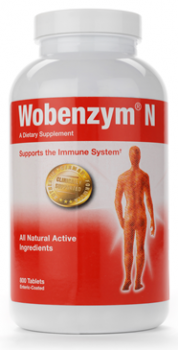 SKU: DOU875
MPN: 200525-800X
UPC: 310539034583
Wobenzym
Wobenzym N - Wobenzym by Marlyn - Douglas Laboratories
CIC's "circulating immune complex" are made up of proteins such as damaged antibodies, antigens and diseased tissue. When CIC's "circulating immune complex" accumulate in joints, they act as irritants, causing inflammation. The proteolytic enzymes in Wobenzym help to break up and destroy these bad proteins, clearing the way for the body's natural repair process.
Help The Body Control Joint Inflammation - Circulating Immune Complexes are at the root of most joint inflammation. Studies show that Wobenzym helps to reduce the stiffness and swelling of inflamed joints, increase mobility, and slow down further damage.
People lose enzymes with age. As people get older, they frequently need more enzymes than they have. This is why people don't recover as quickly from strains and sprains as they did when they were younger. Their joints no longer repair themselves properly, which can lead to osteoarthritis. And their blood starts to thicken, which can cause heart and vascular problems.
Over 50 clinical studies have been conducted on Wobenzym N with consistently positive findings in cases of:
Rheumatoid Arthritis * Osteoarthritis * Sprains and Strains * Enhanced Blood Viscosity * Reduction of C-Reactive Protein (a measure of the body's overall inflammation) * sports injuries * joint & muscle pain • sinus infection.
Support Healthy Blood Flow - Enzymes help to break down the CIC's and other dead (necrotic) matter that accumulate in the blood and blood vessels. The body also uses enzymes to regulate the amount of fibrin in the blood, breaking down excess fibrin when the blood becomes too thick. With age, many people do not have enough of these enzymes. Wobenzym supports the body's natural blood-thinning process.
Mobilize the immune system - Enzymes clean the Fc receptors used by white blood cells to carry away invading pathogens. Enzymes also activate the body's second line of defense, the macrophages that remove damaged cells. When damaged cells are not removed, they interfere with the body's normal repair processes.
Speeds recovery from strains and sprains - After an injury, the body uses large amounts of enzymes to fully repair itself. Even young, healthy people may experience a shortage of enzymes after injuring a muscle or ligament. This shortage delays the repair process needlessly. Wobenzyme enhances the body's ability to recover from sprains and strains efficiently.
Wobenzym N supplies key enzymes
Pancreatin - helps reduce joint discomfort and swelling. Reports suggest that pancreatin may also reduce the risk of pancreatitis considerably. Bromelain - strengthens the immune system, supports anti-inflammatory activity and inhibits excessive blood clotting. Bromelain also helps the body reduce joint swelling. Trypsin - boosts immune system activity, accelerates repair of injuries and may help maintain healthy circulation. Papain - exhibits strong anti-inflammatory activity. Chymotrypsin - helps to keep blood flowing freely to enhance circulation. Wobenzym also contains Rutin, a powerful free radical scavenger. Rutin also acts as an anti-inflammatory by inhibiting the enzymes that produce inflammation.
Recommended Guidelines for Using Wobenzyme N
Wobenzyme may be taken concurrently with any nutritional supplement or mediation except for the Warfarin based blood thinners.

Take enzymes on an empty stomach, 30 to 45 minutes before a meal, with water or juice.

During flare-ups of chronic inflammation, take five tablets three times a day.

For acute-phase injuries, take 10 tablets three times a day. Prevention is preferred; athletes should take enzymes prior to physically demanding events.

If you are already using NSAID's such as ibuprofen, gradually adjust the NSAID use over several weeks.

Enzymes are not pain killers. They are slower-acting than drugs such as ibuprofen. Use Wobenzyme N for several weeks before deciding whether enzymes are of benefit.
For Sports Injuries
A Proven Oral Combination Enzyme Formula for Sports Injuries. (Ref. Article from Townsend Letter, February/March, 1998, Michael Schedler, M.D.)

As an ear, nose and throat doctor who specializes in plastic surgery and oncology, I've long prescribed enzymes to my patients because they do such a wonderful job of hastening post-surgery recovery. Hundreds of published scientific studies and my own clinical experience have shown that enzymes act to quickly reduce inflammation, swelling, and internal bleeding, all of which are extremely important to control following surgery. What's more, enzymes are extremely safe, especially compared to other anti-inflammatory medical drugs that were designed for this purpose.
Many medical professionals, however, do not know how helpful enzymes are for sport injuries. I've learned how great enzymes are for sports injuries in working with my patients, because another significant portion of my practice is made up of weekend warriors battling to stay in shape in spite of demanding schedules that come to me for advice on how best to treat minor aches and pains associated with their weekend exploits, as well as a number of full-time athletes who are in a day to day battle to counter the inflammation and joint and muscle soreness that comes with intensive physical activity.
Enzymes and Exercise
Exercise is one of the most important things people can do to create great physical and mental health. Yet, sports injuries are becoming increasingly prevalent as more and more health conscious people start to exercise daily. Most people could greatly benefit from regular use of enzymes to prevent athletic injuries, or reduce their severity. Most sports and exercise injuries are either contusions involving injuries just below the surface of the skin, or sprains in which the ligaments around a joint are injured. In almost all cases, if your patient is injured, initial therapy should consist of cooling, compression, and rest. But what happens next, particularly your choice of your patient's pain reliever, is key to whether your patient's injury will heal slow or quickly.
Typically, we might prescribe aspirin, ibuprofen, or another type of pain killer, usually known as a non-steroidal anti-inflammatory drug (NSAID), for sports and exercise injuries, particularly when there is inflammation. NSAID's do, in fact, work well for quickly relieving pain and inflammation, and patients generally can safely use NSAID's for a few days.
However, when used chronically, these medications have many complications. For example, NSAID's are irritating to the stomach and clinical experience has shown that they cause microscopic bleeding after about three days of use in virtually every patient. This can progress and cause ulcers and other gastrointestinal problems.
Moreover, metabolism of the cartilage may be impaired and the degenerative process accelerated using drugs such as aspirin and ibuprofen. Researchers, writing in Current Medical Research and Opinion, note: "Most of [the typically prescribed drugs] have proved to reduce the metabolic capacity of the cartilage, and this could lead possibly to an impairment of articular function in the long run. Most of these preparations, moreover, cannot be administered as long as necessary either because of inconvenience to the patient or because of severe side-effects, usually gastric."
Jose M. Pujalte, MD and co investigators reported in Current Medical Research and Opinion in 1980 that, "In the long run this could result in an even worse condition.".
This finding of a poorer state of overall and specifically joint health, after the use of common arthritis drugs, has been verified in many studies published in journals such as Lancet and the Journal of Bone and Joint Surgery. Preliminary clinical data suggest a method of action by which ibuprofen type drugs may have a negative effect on joint health: they adversely affect the body's balance of specific prostaglandin's, the family of fatty acids and chemical messengers intimately involve in the body's inflammation processes.
Although NSAID's reduce the signs and symptoms of osteoarthritis and rheumatoid arthritis and bring relief to millions of people, they 'do not eliminate underlying disease. Disease-modifying anti-rheumatic drugs also bring relief, but these drugs are often ineffective and not well tolerated. Failure to provide long term benefits combined with the high toxicity of most of the disease-modifying agents has prompted a search for more effective treatments.
If the pain is severe by all means, use aspirin or ibuprofen or other types of NSAID's as appropriate - but only for a short while, up to about three days. For long term inflammation processes and injuries, in Germany and elsewhere in Europe, sports medicine doctors have discovered a natural, safer pathway to heal sports and exercise-related injuries. For athletes with chronic soreness, a quality enzyme mixture, such as Wobenzym N, is the superior choice for long-term anti-inflammatory actions.
Enzymes are one of the most powerful, yet little known healing secrets now available to American medical and health consumers who are concerned with inflammation and sports injuries.
What are Enzymes?
Technically, an enzyme is any of various types of proteins which act as catalysts to speed up the body's biochemical process. Without enzymes, life cannot exist. Enzymes are the tools that create life. All living material contains enzymes. Enzymes control the chemical reactions of all organisms, big or small. Enzymes act as catalysts. They work in a "lock and key" manner to change the structure of molecules by splitting or combining them.
Wobenzym N Europe's #1 nutritional enzyme system provides support for normal inflammation levels. Wobenzym N is endorsed by leading European scientists, and is backed by over 30 years of scientific research and clinical studies confirming its benefits. Nearly all injuries lead to inflammation, which results in cellular damages to the body and may be responsible for many health problems. Wobenzym N provides nutritional support for the body's repair mechanisms. European studies have shown that Wobenzym N not only supports the body's natural repair processes, but also appears to accelerate the process. Enzymes help to restore and promote normal microcirculation and at the same time remove injurious complexes that accumulate at the site of inflammation.
Supplement Facts
Serving Size: 3 tablets
Servings Per Container: 266
Amount Per Serving
% Daily Value
Pancreatin** 56,000 USP units ......... protease (pancreas) Sus scrofa
300 mg
*
Papain** 492 FIP-units*** ................. Carica papaya
180 mg
*
Bromelain** 675 FIP-units ................ Ananas comosus
135 mg
*
Trypsin** 2,160 FIP-units ................... (pancreas) Sus scrofa
72 mg
*
Chymotrypsin** 900 FIP-units .............. (pancreas) Bos Taurus
3 mg
*
Rutoside trihydrate** (Rutin) ............ Sophora japonica
150 mg
*
*Daily Value Not Established
Other Ingredients: cellulose, vegetable-based enteric coating, vegetable stearate, natural vanilla flavor, purified water.
Wobenzym® N may be a useful dietary supplement for individuals wishing to support
healthy joint, immune and circulatory function.
This product contains NO yeast,gluten, soy , milk/dairy, sodium, sugar, artificial coloring, preservatives.

**From dried purified aqueous extracts.

***FIP is the measurement of enzyme activity
according to the methods of the
International Pharmaceutical Federation