Bile Support - 60 CP by Pharmax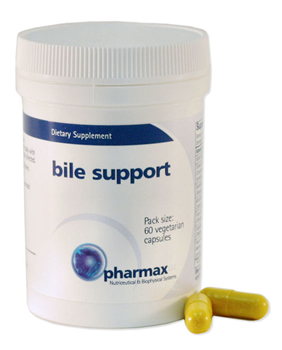 Bile Support by Pharmax
helps to increase excretion of neutralized toxins and works well with liver support products.
Features and Benefits:
Alpha lipoic acid is an antioxidant that can function both in water and the lipid phase .
Turmeric has both choleretic and cholagogue effects. Dandelion can have a slight laxative effect.
Artichoke shows strong choleretic activity and can lower serum cholesterol.
Fringe tree is a choleretic herb, which also can relieve symptoms of irritable bowel syndrome.
Celandine has both choleretic and cholagogue activity and has traditionally been used in the treatment of conditions such as jaundice.
Freeze dried peppermint oil has cholagogue and spasmolytic activity.

Ingredients per capsule: 405mg
Alpha lipoic acid 100mg
Turmeric root standardized extract 80mg
Dandelion extract 50mg
Artichoke leaf extract 5:1 50mg
Fringe tree standardized extract 50mg
Celandine standardized extract 50mg
Freeze dried peppermint oil 25mg
Non-active Ingredients:
Vegetable magnesium stearate, silica.
Recommended:
One capsule taken twice daily with meals or as professionally directed.