Rescue Remedy Spray - 20 ML by Nelson Bach USA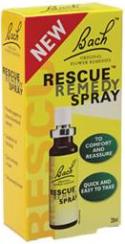 List Price:
$19.95
Sale Price:
$17.95
You Save:
()
Save even more with Volume Discounting:
| | | | | |
| --- | --- | --- | --- | --- |
| Qty | 1 - 2 | 3 - 5 | 6 - 11 | 12+ |
| Price | $17.95 | $17.56 | $17.32 | $17.08 |

SKU: NEL495
MPN: BF01394
UPC: 741273013952
Rescue Remedy Bach Flower essences by Nelson Bach is the help center for the emotions until the crisis has past. Bach Flower Rescue Remedy is the one product that takes care of all kinds of emotional stress. It is made from 5 of Dr. Bach's 38 original flower essence remedies: Impatiens; Star of Bethlehem; Cherry Plum; Rock Rose and Clematis.
Also available in a homeopathic cream that can be applied to bumps, bruises, cuts, burns, rashes, sprains, insect bites, sunburn - even chapped lips.
Rescue Remedy, is a natural stress reliever that many folks keep on hand at home and in travel kits. It can often help both people and animals recover from injury, fright, illness, travel fatigue, chocolate ingestion and irritation. Put a few drops in the dog's water bowl or portable water container. For stressed or injured animals, rub a drop on their ear or put a drop on the towel in their crate or carrier. Flower essences are free of harmful effects and can be used along with conventional medicines.
Rescue Remedy Usage: To use, simply spray 2 to 4 dosages under or on top of the tongue. Rescue Remedy can also be used on the pulse points, or moistened lips.
Additional Information / Warnings: Gentle, safe effective treatment for the whole family. No artificial additive. Suitable for vegans. If pregnant or breast feeding, ask a health professional before use. (27% Brandy Alcohol)
Rock Rose: adds courage and presence of mind in the face of terror or extreme fear.

Clematis: helps you live more actively in the present rather than in the future or in your own dream world.

Impatiens: helps you cope calmly with irritating problems or people.

Cherry Plum: helps you act rationally and think clearly with a calm and balanced mind when you feel loosing control.

Star of Bethlehem: softens the impact of shock, grief or fright.
Active Ingredients: 5X dilution of helianthemum nummularium HPUS, clematis vitalba HPUS, impatiens glandulifera HPUS, prunus cerasifera HPUS, ornithogalum umbellatum HPUS.


Inactive Ingredients: 27% alcohol.