Grifon Maitake Sx Fraction - 90 TB by Mushroom Wisdom (Maitake)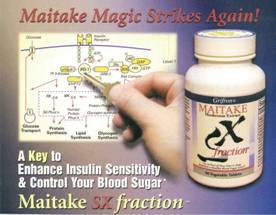 List Price:
$44.95
Sale Price:
$40.45
You Save:
()
Save even more with Volume Discounting:
| | | | | |
| --- | --- | --- | --- | --- |
| Qty | 1 - 2 | 3 - 5 | 6 - 11 | 12+ |
| Price | $40.45 | $39.56 | $39.02 | $38.48 |

SKU: MAI700
MPN: SX090
UPC: 791014201001
Also Available:
In many blood sugar imbalances, insulin deficiency is not a primary problem but peripheral (muscle and fat tissues) insulin resistance is a major factor. Therefore, the treatment for the patients with blood sugar imbalances relies mainly on how to overcome insulin resistance. The drugs used to enhance the insulin sensitivity for this type of blood sugar imbalance have many adverse side effects, especially on kidneys and liver.
Are there alternative (natural) means to overcome insulin resistance safely? Yes, we have good news from Maitake Products, the maker of Grifron Maitake, Pro D-fraction and other fine medicinal mushroom products.
The good news is Maitake SX-Fraction.
Research started at Georgetown University in Washington DC. and New York Medical College, Valhalla, NY. in 1997 discovered an active compound (another beta-glucan) in the Maitake mushroom called X-fraction. This X-fraction, according to their studies, would weaken the insulin resistance and consequently enhance insulin sensitivity. Searching for a better compound, Cun Zhuang, Ph.d., Chief Researcher at Maitake Products, developed an improved method to successfully fractionate and identify another active compound from Maitake, named SX-Fraction. Studies on SX-Fraction have been conducted at Georgetown University and New York Medical College respectively over the last two years. The results show that SX Fraction does indeed possess a more potent ability to enhance insulin sensitivity for controlling blood sugar levels and lowering blood pressure than X-fraction.
Short term use of SX-Fraction caused blood sugar to drop from 203 mg/dl to 171 mg/dl.
Long-term use of the product caused blood sugar to drop from 196 mg/dl to 137 mg/dl. Both of these results were statistically significant. In this study, body weight declined modestly among SX-Fraction users, dropping 3 kgs (about 7 lbs) in two months. Lipid levels also declined in two months, from 142 mg/dl to 133 mg/dl, a drop that was statistically significant.
While research done so far on SX Fraction suggests that it works by increasing the insulin sensitivity of the body's cells, an informal study done recently by a nutritionist produced some intriguing additional results. Patients suffering from low blood sugar levels accompanied by low energy levels and fatigue, after taking SX-Fraction, experienced a sharp rise in energy and decline in craving for sweets. This result seems to imply that SX-Fraction may also be effective as an agent to treat blood sugar levels.*
The results of the human studies suggest that SX Fraction may be useful in affecting four different physiological parameters important in cardiovascular health: blood glucose levels, lipid levels, body weight and systolic blood pressure.*
Moreover, unlike pharmaceutical products that treat these conditions, SX-Fraction has no noticeable side effects of an) kind.
This is truly good news for those who suffer from blood sugar imbalances or for those who would like to prevent it.
Maitake Products, Inc. makes SX-Fraction in tablets, and this new product, Maitake SX Fraction is available from Shoko's Natural Products at discounted prices. Maitake SX Fraction is safe and is very helpful in prevention and for those who suffer from "Syndrome X", which includes glucose intolerance. high blood pressure, lipid imbalances), and Obesity.* All dosages are the suggestions of the manufacturer.
The ingredients found in Grifon Maitake Sx Fraction can be researched. Read Abstract at www.ncbi.nlm.nih.gov