Selenium Solution - 8 OZ by Allergy Research Group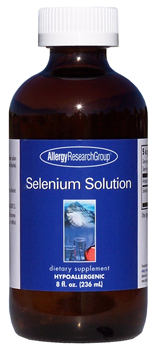 List Price:
$13.04
Sale Price:
$11.55
You Save:
()

SKU: ALL825
MPN: 70120
UPC: 713947701205
Selenium Solution (Hypoallergenic) 8 oz (236 ml) liquid by Allergy Research Group, Nutricology.
Selenium Solution is specially formulated for individuals who are hypersensitive. It provides sodium selenite, which is a very pure selenium source. Sodium selenite is well absorbed, and its sodium content is nutritionally insignificant.
Selenium Solution is prepared by dissolving sodium selenite into triple distilled water, then sterilizing the solution by the use of heat rather than by the addition of chemical preservatives. Selenium Solution is therefore best stored refrigerated after the bottle has been opened. Individuals who are highly chemically sensitive may want to use Selenium Solution at an appropriate level of dilution to gradually build up their tolerance. This liquid form of selenium makes it easier to regulate the dose according to the needs of the individual, potentially improving tolerance.*
Suggested use: As a dietary supplement, 1/2 teaspoon one to three times daily, or as directed by a healthcare practitioner.
Serving Size 1/2 teaspoon (2.5 ml)
Servings per container 94
Amount per serving:
Selenium (as Sodium Selenite) 100 mcg
Other ingredients: Distilled water.
Refrigerate after opening.
DO NOT EXCEED 400 MICROGRAMS OF SELENIUM PER DAY FROM ALL SOURCES UNLESS SUGGESTED BY YOUR HEALTH PRACTITIONER. # 70120
Supplement Facts
Serving Size: 1/2 teaspoon (2.5 ml)
Servings Per Container: 94
Amount Per Serving
% Daily Value
Selenium (as Sodium Selenite) 100 mcg
*Daily Value Not Established
Other Ingredients: Deionized water, sodium hydroxide.
Pure sodium selenite solution, which is well absorbed and may be suitable for individuals who are sensitive to other forms of selenium.* The selenite is dissolved in pure, deionized water, allowing the dose to be regulated as needed. The product is sterilized with heat rather than with chemical preservatives, so refrigerate after opening. The daily sodium intake in sodium selenite is nutritionally insignificant.