L-Methionine - 30 CP by Montiff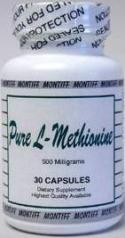 List Price:
$17.00
Sale Price:
$14.85
You Save:
()

SKU: MON570
MPN: 10600
UPC: 683268106006
Pure L-Methionine - Montiff

Methionine, an essential sulfur amino acid, is involved in the synthesis of Cysteine, Glutathione, Carnitine, Taurine, Creatine, Nucleic Acids, Polyamines, Catecholamines and Protein.2, 9,10 Low levels are noted in Glutathione deficiencies and alcohol-induced fatty livers.5,6,9 It may be beneficial to women with chronic urinary tract infections 3, and since Methionine is involved in protein synthesis, it is beneficial to trauma and burn patients, to increase nitrogen and assist in tissue repair. 9,11
Each capsule of Pure L-Methionine has 500 mg. of the highest quality Methionine available.
DIRECTIONS
Take 1-2 capsules daily with a full glass of water or fruit juice. It is very important to take with folic acid, B-6 and B-12 to properly metabolize and prevent harmful Homocysteine levels; therefore, take with a B complex, such as Montiff B-Long or B-Complete (1 - three times daily with food). Vitamin E (Montiff Natural E or Super E Plus) - total 800 IU, and Vitamin C (Montiff Super C Plus -1 per day) are also recommended to prevent the effects of Hyperhomocysteinemia. L-Arginine supplementation may also be included for vascular health.
RECOMMENDED TO ENHANCE STRUCTURE & FUNCTION RELATING TO NUTRITIONAL NEEDS AND DEFICIENCIES PERTAINING TO:
" Production of Cysteine, Glutathione, Taurine, Choline. 2,9,10,11
" Synthesis of Carnitine and Creatine. 8,9
" Involvement in nucleic acid production, polyamines and catecholamines. 9,10
" Protein synthesis and increase of body nitrogen. 9
" Deficiencies noted in burn and sepsis patients. 9,11
" Hepatic liver metabolism due to alcohol consumption. 5,6,9
" Prevention of adhesion of uropathogenic microorganisms in chronic urinary tract infections. 3
WHAT IS METHIONINE?
L-Methionine, an essential amino acid, must be obtained in the diet or through supplementation. Some of the food sources of Methionine are meat, eggs, onions, beans, soybeans, lentils and yogurt. Methionine is the precursor for Cysteine, and both are sulfur amino acids, which have antioxidant properties to help inactivate free radicals. Methionine also is the precursor for Taurine and, since Cysteine is necessary for Glutathione production, insufficient Methionine may cause a deficiency of Glutathione. Insufficient Glutathione can result in improper detoxification of the liver, and tissue damage, including swelling of the mitochondria of lung capillary endothelial cells and considerable damage in the jejunum and colon. Glutathione is also an important antioxidant protecting cells from toxic effects of reactive oxygen compounds and detoxifying free radical and peroxides. Methionine is also important for protein synthesis as well as the synthesis of Carnitine and Creatine, and is involved in the production of nucleic acids, polyamines, choline, and catecholamines.
METHIONINE AND RELATIONSHIP TO ALCHOHOL- INDUCED FATTY LIVERS
Methionine is necessary for the manufacture of Choline and it is the precursor for Cysteine, which is essential in Glutathione production. These deficiencies are noted in those with alcohol-induced fatty livers. With excessive alcohol consumption, hepatic liver metabolism is extremely impaired often resulting in cirrhosis. By increasing Methionine - Choline and Glutathione also increase, which may prevent ethanol-induced fatty livers. Methionine supplementation may also be beneficial to those with other liver abnormalities, including Gilbert's syndrome.
" Those with high alcohol consumption may benefit from Methionine supplementation (1 to 2 daily). " Montiff Gluca-Balance (with Methionine and other beneficial amino acids) is also be a good choice for Alcoholics (2 - b.id. or t.i.d).
" Montiff B-Complete or B-Long (1 t.i.d.) is essential for proper metabolism and to prevent harmful Homocysteine levels. Alpha Lipoic Acid (Montiff Alpha Lipoic Acid Plus 1-2 daily) is also recommended to increase Glutathione, prevent lipid peroxidation, detoxify the ethanol and help maintain, or restore, hepatic function. The addition of N-Acetyl-L-Cysteine may also be helpful in increasing Glutathione production.
BURN AND TRAUMA PATIENTS AND METHIONINE SUPPLEMENTATION
Methionine synthesis is altered considerably in trauma and burn injuries and requirements for sulfur amino acids are increased. These patients are also deficient in Carnitine and other amino acids necessary for tissue repair. Although some studies on burn patients have been conducted with IV supplementation of Methionine, one study actually demonstrated that more Methionine converted to Cysteine via oral supplementation than by vein.
METHIONINE FOR REOCCURRING URINARY TRACT INFECTIONS IN WOMEN
In one study of 23 women with reoccurring urinary tract infections, L-Methionine was administered 3 times daily for a period of 26 months. The Methionine prevented the adhesion of uropathogenic microorganisms to the cells of the urinary tract, and no Escherichia coli strains were found. This study concluded that L-Methionine supplementation is a suitable therapy to prevent chronic reoccurring urinary tract infections, whereas continued use of antibiotics may cause development to resistance.
HOMOCYSTEINE: RELATIONSHIP TO METHIONINE AND PREVENTION OF
Homocysteine, an abnormal metabolite of Cysteine, has been proven to be detrimental to endothelial health, leading to heart attacks and strokes. Methione is the precursor to Cysteine and oral supplementation can raise Homocysteine levels. It is important to take the necessary vitamins to prevent this abnormal metabolite from forming in excessive amounts. B-6, B-12 and Folic Acid can prevent excessive Homocysteine levels, therefore, Montiff B-Complete or B-Long (1 three times daily with food) is recommended to help prevent this. In addition, taking antioxidants - Vitamin C (1000mg.) and Vitamin E (800 IU) - can help prevent endothelial damage from Hyperhomocysteinemia, and allow for beneficial response to L-Arginine supplementation for vascular health, as reported in Jama, 1999.

ALL-BASIC FORMULA FOR METHIONINE SUPPLEMENTATION IN THE DIET
Methionine is important for metabolic function and health; however, small amounts daily are generally sufficient for most people to maintain good health. Montiff All-Basic Formula contains Methionine, as well as 19 other highest quality amino acids plus Alpha Lipoic Acid. This is a good choice for a daily supplemental health program as well as for times of illness, injury and stress. The body requires more amino acids than are available in foods for tissue repair and bodily function at these times.
REFERENCES:
1. Nappo, De Rosa et al, "Impairment of Endothelial Functions by Acute Hyperhomocysteinemia and Reversal by Antioxidant Vitamins", Jama,1999.
2. Wang, Chen, et al, "Methionine and Cysteine Affect Glutathione Level. Glutathione-Related Enzyme Activities and Expression of Glutathione S-Transferase Isozymes In Rat Hepatocytes", J. Nutr. , 1997.
3. Funfstuck, Strabe, et al. "Prevent. and Reinfection by L-Methionine in Patients with Recurrent Urinary Tract Infection", Med. Klin, 1997.
4. Stegink, LK Den Besten, L, "Synthesis of Cysteine from Methionine in Normal Adult Subjects: Effective Route of Alimentation", Science 1972.
5. Bianchi, Brizi, Rossi, et al, "Synthesis of Glutathione in Response to Methionine Load in Controlled Subjects and In Patients with Cirrhosis," Metabolism, 2000.
6. Avila, Berasin et al, "Redusded mRNA Abundance on the Main Enzymes Involved in Methionine Metabolism In Human Liver Cirrhosis and Hepatocellular Carcinoma," J. Hepatology 2000.
7. Hanratty, McGrath, et al, "The Effects of Oral Methionine and Homocysteine on Endothelial Function," Heart, 2001.
8. Wilson, Peter, WF, " Homocysteine, Vitamins, and Cardiovascular Disease", Reuters Medical News, 2000.
9. Di Pasquale, Maurio, Amino Acids and Proteins for the Athlete, CRC Press, 1997.
10. Balch J., MD., and Balch, P, CNC,. "Prescription for Nutritional Healing, 1997.
11. Wilkinson, Megson et al, " Acute Methionine Loading Does Not Alter Arterial Stiffness in Humans", J. Card. Pharm., 1/2001.
12. Cynobar, Luc, Amino Acid Metabolism and Therapy in Health and Nutritional Disease, 1995.
Supplement Facts
Serving Size: 1 capsule
Servings Per Container:
Amount Per Serving
% Daily Value
L-Methionine (Amino Acid)
500mg
*
*Daily Value Not Established
Other Ingredients: Microcrystalline Cellulose, Magnesium Stearate, Gelatin.
RECOMMENDED TO ENHANCE STRUCTURE & FUNCTION RELATING TO NUTRITIONAL NEEDS AND DEFICIENCIES PERTAINING TO:
• Production of Cysteine, Glutathione, Taurine, Choline. 2,9,10,11
• Synthesis of Carnitine and Creatine. 8,9
• Involvement in nucleic acid production, polyamines and catecholamines. 9,10
• Protein synthesis and increase of body nitrogen. 9
• Deficiencies noted in burn and sepsis patients. 9,11
• Hepatic liver metabolism due to alcohol consumption. 5,6,9
• Prevention of adhesion of uropathogenic microorganisms in chronic urinary tract
infections. 3