Rendimax - 100 TB by Heel/BHI Homeopathics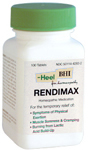 List Price:
$18.99
Sale Price:
$17.10
You Save:
()

SKU: HEEB640
MPN: 1001560
UPC: 787647100569
Rendimax 300 mg - 100 TB BHI HEEL
Characteristic symptoms:
For the temporary relief of symptoms of physical exertion, muscle soreness and cramping and burning from lactic acid buildup.
Ingredients
Ilex aquifolium 2X (stitches in the side), Oleander 5X (weakness of lower limbs; diminishing energy; trembling legs), Arnica montana, radix 7X (consequences of overexertion; sore, bruised feeling; muscles ache; pain in back and limbs; joints feel as if sprained; overall exhaustion), Orchitinum 10X (states of exhaustion; raises level of vitality), Sarcolacticum acidum 11X (sore, tired feeling in the neck, shoulders and back; cramping and stiffness in thighs and calves; weakness in arms; muscular debility and prostration), 0.99 mg each/300 mg tablet. The base of BHI Rendimax is a combination of lactose and dextrose, flavored with citric acid.
Directions
Normal dosage of Rendimax is up to 5 tablets before, during or after physical exertion. BHI Rendimax tablets may be taken as often as every 15 minutes. *check label.
Warnings
If symptoms persist or worsen, a health care professional should be consulted. If pregnant or breastfeeding, consult a health care professional before use. Keep this and all medicines from the reach of children.
Interaction With Other Drugs
None Known