Glyco Plex (Mega B Complex) - 90 CP by Progressive Laboratories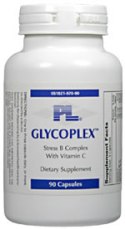 SKU: PRO560
MPN: 970
UPC: 351821009704
Also Available:
Glyco Plex information Glyco Plex PDF
Glyco-Plex 90 capsules - Progressive labs.
Ingredients:
Per 3 capsules:
Vitamin B-1 100 mg, Vitamin B-2 100 mg, Niacinamide 500 mg, Vitamin B-6 100 mg, Vitamin B-12 50 mcg, Folic acid 300 mcg, Vitamin C 500 mg, Biotin 15 mcg, Pantothenic acid 250 mg, Chromium picolinate 200 mcg, Inositol 50 mg, Pancrelipase 50 mg, Choline bitartrate 50 mg, Pyloric substance 45 mg, PABA 60 mg, L-Lysine monohydrate 30 mg.
Vital Nutrients for Control of Blood Sugar, Addictive Behavior & Stress.
This formula contains the proportions of B vitamins and vitamin C used by orthomolecular psychiatrists for stress, blood sugar level control and behavior modification along with GTF (glucose tolerance factor) chromium from chromium picolinate, lipotrophic factors and glandular support with synergistic enzyme activity. B vitamins are essential in the conversion of carbohydrates into glucose, which then "burns" to produce energy. They are also vital in metabolism of fats and proteins.
Glyco Plex aids in blood sugar regulation in both hypo and hyper blood sugar imbalances through normalization of glycogen/insulin formation and release.
A strong relation has been demonstrated between blood sugar irregularities (hypo and hyper-blood sugar imbalances) and all types of addictions including:
Alcohol and drug abuse
Sugar and other food addictions
Behavioral addictions, i.e. gambling...
Therefore individuals who fall into any of these categories should be supplemented with the high potency B-complex vitamins found in Glyco Plex, starting with a therapeutic dose, then continuing with a maintenance schedule.
NOTE: It is not the ingredients in the products that makes them work. It is the balance of each individual ingredients that regulates the body.
HES works with some of the most advanced doctors in the US. Please do not be hesitate to ask for help.
Supplement Facts
Serving Size: 3 capsules
Servings Per Container: 30
Amount Per Serving
% Daily Value
Vitamin C (as ascorbic acid)
500mg
833%
Thiamine (B-1)
100mg
6667%
Riboflavin (B-2)
100mg
5882%
Niacin (as niacinamide)
500mg
2500%
Vitamin B-6 (as pyridoxine HCI)
100mg
5000%
Folate (as folic acid)
300mcg
75%
Vitamin B-12 (as cyanocobalamin)
50mcg
833%
Biotin
15mcg
5%
Pantothenic Acid (as calcium pantothenate)
250mg
2500%
ChromeMate GTF Chromium (as chromium polynicotinate)
200mcg
167%
Proprietary Blend
245mg
*
Defatted bovine liver powder, porcine pancrealipase powder, porcine stomach powder, porcine freeze dried pancreas powder, porcine adrenal powder, porcine brain powder
PABA (Para-Amino-Benzoic Acid)
60mg
*
Inositol
50mg
*
Choline (as choline bitartrate)
50mg
*
Lysine (as L-lysine monohydrochloride)
30mg
*
*Daily Value Not Established
Other Ingredients: gelatin, rice flour, vegetable magnesium stearate, maltodextrin, mannitol.
Glycoplex is a Mega-B-Complex formulation, which contains the proportions of B vitamins and vitamin C used by orthomolecular psychiatrists to support normal blood sugar levels and behavior.