Glucosamine Sulfate - 60 CP by Progressive Laboratories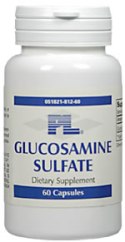 SKU: PRO540
MPN: 812
UPC: 3-51821-00812-7
Glucosamine Sulfate information Glucosamine Sulfate PDF
Glucosamine Sulfate 500mg 60 capsules - Progressive labs.
Ingredients per capsule:
Glucosamine Sulfate 500 mg. Other ingredients: rice flour, gelatin. Suggested use:
One capsule daily, or more, as directed by doctor.
Supplement Facts
Serving Size: 1 capsule
Servings Per Container:
Amount Per Serving
% Daily Value
Glucosamine Sulfate
500mg
*
*Daily Value Not Established
Other Ingredients: rice flour and gelatin. Contains one or more of the following: Chinese sea crab, Chinese sea shrimp, Alaskan snow crab.
Research indicates that damaged cartilage can be replaced by healthy new cartilage if the proper building materials are available. Glucosamine is a naturally occurring amino sugar that is necessary for construction and repair of connective tissue.