Artho-Ease - 3.25 OZ by Weber & Weber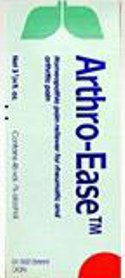 This product has been discontinued
Arthro-Ease arthritis formula by Weber & Weber
Ingredients:
100 ml contain:
Alchemilla vulgaris tincture 1x 20 ml, Equisetum arvense tincture 1x 20 ml, Ilex aquifolium tincture 1x 20 ml, Calcarea phosphorica 8x 10 ml, Silicea 8x 10 ml, Symphytum officinale 6x 10 ml.
Inactive ingredient: Ethanol.
Suggested Use:
Adults, unless otherwise directed, take 30-50 drops three times daily. May be diluted with juice, tea, or water. Consult a physician for use in children under 12 years of age.
WARNING: As with any drug if you are pregnant or nursing a baby seek the advice of a health care professional before using this product. If symptoms persist for more than 5 days or do not improve, consult your health care professional.