Sinus - 84 Pillules by Nelson Bach USA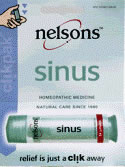 This product has been discontinued
SKU: NEL580
MPN: NH05061
UPC: 741273050605
Sinus homeopathic medicine by Nelsons. Natural relief for sinus irritations.
100% Natural, No side effects, No drowsiness.
Homeopathy is a system of medicine which stimulates the body's own natural forces of recovery. The active ingredients in homeopathic medicine are free from side effects. For many years homeopathic medicines have been used as a safe and effective means of treating ailments for the whole family.
Indications: For the temporary relief of minor sinus-related problems including inflammation of nasal passages with constant runny nose, inflammation of throat with scratching rough cough, stabbing pain or headaches in temples or forehead, loss of sense of smell, symptoms aggravated by heat or lying down.
Directions: Adults/Children: On first use, turn pack upside down and break seal by pressing base hard with thumb. Press base twice to release 2 pillules into cap, unscrew cap and without touching pillules tip them into the mouth. Chew or let dissolve in mouth 2 pillules every 2 hours for the first 6 doses, then 2 pillules 3 times daily until the symptoms improve. Take between meals.
Active Ingredients: Hydrastis 30c HPUS, Kali Bic 30c HPUS, Pulsatilla 30C HPUS, Thuja Occ 30c HPUS.
Inactive Ingredients: Lactose, Sucrose.
Nelsons Sinus combination is a natural relief for sinus irritations.
Active Hydrastis 30c HPUS, Kali bic 30c HPUS, Pulsatilla 30c HPUS, Thuja occ 30c HPUS. Inactive Ingredients: Lactose, Sucrose


Inactive Lactose, sucrose.