Bilberry (Strix) - 60 TB (Marked Down) by Scandinavian Formulas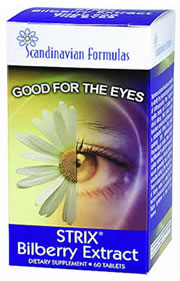 List Price:
$19.95
Sale Price:
$11.97
You Save:
()

SKU: SCA310-C
MPN: 4046
UPC: 851137000001
Limited Quantity!
Product Expires: 12/14

Also Available:
More information:
During WWII, British Air Force pilots were given bilberry jelly to help improve their night vision and strengthen tired eyes. Bilberries contain anthocyanosides which have shown to enhance the photosensitivity of the eyes and help them adapt to variations in light intensity. This is found to be especially beneficial for night vision.
STRIX has been tested by the Swedish National Board of Health and is registered as a natural product (No. 87-5016)
Supplement Facts
Serving Size: 1 capsule
Servings Per Container:
Amount Per Serving
% Daily Value
Bilberry (Vaccinium myrtillus)(fruit) (from 250mg of a 4:1 extract)
1,000mg
*
*Daily Value Not Established
Other Ingredients: soybean oil, gelatin, vegetable glycerin, soy lecithin, yellow beeswax, natural caramel color.
STRIX® Bilberry Extract
Improve night vision and overall eye health
with this easy to swallow Bilberry tablets.

"I can see clearly now the rain is gone!" A popular song reminds us
of one of Bilberry's greatest attributes – helping us to see clearly!
Can you think of a better gift than clear sight? Don't invite eye
fatigue into your life.

Scandinavian Formulas' STRIX® Bilberry Extract contains Bilberry Extract obtained exclusively from Vaccinium Myrtillus L., specifically from the skin and pulp of the berry.

Bilberry has been widely known to herbalists since the 16th century. This close relative of blueberries contains over 15 different naturally-occuring anthocyanosides (flavonoids) that contain beneficial antioxidant properties.

"Life is Good – See it Clearly"