Vitamin D3 - 1 OZ by ChildLife Essentials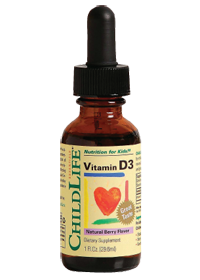 List Price:
$7.95
Sale Price:
$7.15
You Save:
()
Save even more with Volume Discounting:
| | | | | |
| --- | --- | --- | --- | --- |
| Qty | 1 - 2 | 3 - 5 | 6 - 11 | 12+ |
| Price | $7.15 | $7.00 | $6.90 | $6.81 |

SKU: CHIL70
UPC: 608274109001
Recently, the American Academy of Pediatrics doubled its recommendation for the amount of Vitamin D that all children should receive. These recommendations have resulted from new studies reflecting the many benefits of Vitamin D including support for healthy bones and a healthy immune system.*
Suggested Use:
Infants 6 months to 1 yr: 5 drops daily
Children 1-12 yrs: 8 drops daily
Shake well before use.
Store in a cool dry place.
Give directly or mix with your child's favorite drink.
ChildLife uses only the highest quality ingredients. Gluten free, casein free, alcohol free. Contains no milk, soy, eggs, yeast, wheat or corn. No artificial colorings, flavorings and sweeteners.
*This information has not been evaluated by the Food and Drug Administration. These products are not intended to diagnose, treat, cure or prevent any disease.
References:
Carol Wagner and Frank R. Greer. American Academy of Pediatrics. Prevention of Rickets and Vitamin D Deficiency in Infants, Children, and Adolescents. Pediatrics 2008:122:1142-1152.
Michal L. Melamed, Juhi Kumar, Paul Muntner, Frederick J. Kaskel, and Susan M. Hailpern. Prevalence and Associations of 25-Hydroxyvitamin D Deficiency in Children and Adolescents in the United States: Results from NHANES 2001-2004. Pediatrics, August 3, 2009.
Journal of Clinical Endocrinology & Metabolism Published online ahead of print 29 April 2008, doi:10.1210/jc.2007-2530 "Short-term and long-term safety of weekly high-dose vitamin D3 supplementation in school children" Authors: J. Maalouf, M. Nabulsi, R. Vieth, S. Kimball, R. El-Rassi, Z. Mahfoud, G. El-Hajj Fuleihan.