Thioctic (Lipoic Acid) - 50 CP by Ecological Formulas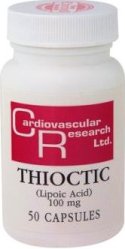 List Price:
$18.95
Sale Price:
$16.95
You Save:
()

Thioctic Lipoic Acid 50 caps - Ecological Formulas, Cardiovascular Research.
Contents: Lipoic acid 100 mg.

Lipoic acid is part of a multienzyme complex with thiamine which catalyzes the oxidative decarboxylation of pyruvate and alph-ketoglutarate to acetyl- coenzyme A and succinyl CoA, important to the citric acid energy cycle. Thioctic acid is important in the clearance of lactic acid and pyruvic acid. It is also a biocatalyst.
Use: 1 cap daily.
Supplement Facts
Serving Size: 1 Capsule
Servings Per Container: 50
Amount Per Serving
% Daily Value
Calcium ( from sulfate)
145 mg
15%
Lipoic Acid
100 mg
**
*Daily Value Not Established
Other Ingredients: Cellulose, Magnesium Stearate and Silicon Dioxide.