Sphingolin - 240 CP by Ecological Formulas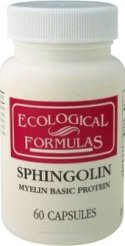 List Price:
$37.95
Sale Price:
$33.85
You Save:
()

SKU: ECO610
MPN: 240SPHINGO

Sphingolin 240 caps - Ecological Formulas, Cardiovascular Research.
This item is not available to ship to the United Kingdom.
Ingredients:
Myelin sheath extract 200 mg
Ascorbic acid 30 mg
Myelin sheath extract, a rich source of naturally occuring sphingomyelin. The delicate enzymes are protected by lylophilization.
Other ingredients: Microcrystalline Celluose, Cellulose, Magnesium, Stearate and Silicon Dioxide.
Suggested Use:
Take 2 caps daily, or as directed by a physician.
Sphingolin is from New Zealand cattle that are range fed. The New Zealand government certifies that there has never been a case of BSE in New Zealand.
**This product does not need to be refrigerated.
Supplement Facts
Serving Size: 2 capsules
Servings Per Container: 120
Amount Per Serving
% Daily Value
Vitamin C ( as scorbic acid)
30mg
50%
ABgland Myellin Sheath (bovine)
200mg
**
*Daily Value Not Established
Other Ingredients: Gelatin, Microcrystalline Cellulose, Cellulose, Magnesium Stearate, Silicon Dioxide.
Sphingolin-MS is a scientifically designed supplement containing a specially prepared source of bovine myelin sheath, a rich source of naturally occurring Myelin Basic Protein. The delicate enzymes are protected by lyophilization. Free of corn, soy, yeast, wheat, egg and other common allergens.