Sabadil - 60 TB by Boiron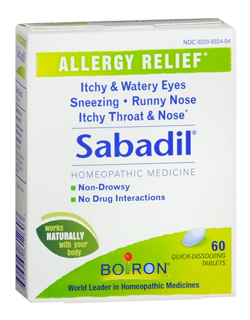 List Price:
$9.99
Sale Price:
$5.00
You Save:
()

SKU: BOI003
MPN: 61260
UPC: 306962612603
USES:
Temporarily relieves one or more of these symptoms of hay fever or other upper respiratory allergies: itchy and watery eyes, sneezing, runny nose, and itchy throat and nose
DIRECTIONS:
Adults and children 6 years of age and older: At the onset of symptoms, dissolve 2 tablets in the mouth every 15 minutes for 1 hour. Then, dissolve 2 tablets in the mouth 3 times a day until symptoms are relieved.
ACTIVE INGREDIENT:
Allium cepa 5C HPUS - Relieves runny nose associated with allergies
Ambrosia artemisiaefolia 5C HPUS - Relieves spasmodic cough associated with hay fever
Histaminum hydrochloricum 9C HPUS - Relieves symptoms of allergic conditions
Euphrasia officinalis 5C HPUS - Relieves burning, irritated eyes
Sabadilla 5C HPUS - Relieves sneezing associated with allergies
Solidago virgaurea 5C HPUS - Relieves abundant nasal discharge
The letters HPUS indicate that this ingredient is officially included in the Homeopathic Pharmacopœia of the United States.
INACTIVE INGREDIENTS:
croscarmellose sodium
lactose
magnesium stearate