Arnicare - 60 TB by Boiron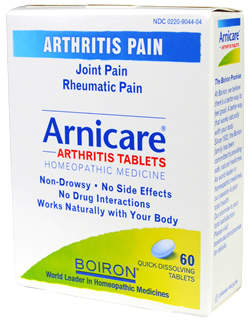 List Price:
$9.99
Sale Price:
$5.00
You Save:
()

SKU: BOI001
MPN: 05904
UPC: 306969059043
USES:
Temporarily relieves muscle pain and stiffness due to minor injuries, overexertion and falls
Reduces pain, swelling and discoloration from bruises
DIRECTIONS:
Adults and children 6 years of age and older: At the onset of symptoms, dissolve 2 tablets in the mouth and repeat every hour for 2 more hours. Then, dissolve 2 tablets in the mouth every 6 hours until symptoms are relieves.
Children 2 to 6 years of age: Dissolve 2 tablets in 1 tablespoon of water for easier administration. Follow directions above.
ACTIVE INGREDIENT:
Arnica montana 9C HPUS – Trauma, muscle pain & stiffness, swelling from injuries, discoloration from bruising
The letters HPUS indicate that this ingredient is officially included in the Homeopathic Pharmacopœia of the United States.
INACTIVE INGREDIENTS:
croscarmellose sodium
lactose
magnesium stearate