Prenatal DHA - 30 softgels by ChildLife Essentials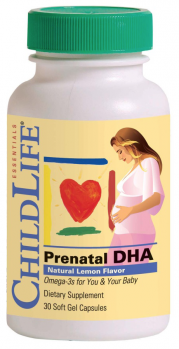 ChildLife Prenatal DHA provides the highest level of DHA "500mg" in each fish gelatin soft gel.
DHA is critical in pre and post natal care and ….its importance cannot be overstated:
Supplementing with DHA during pregnancy is important for healthy brain and eye development of the baby in utero and throughout infancy. ¹ ² ³ ⁴
Fish oil supports healthy birth weight and length of a healthy pregnancy. 5 6 7
Infants born to mothers with higher blood levels of DHA have advanced attention spans well into their second year of life. 8
Lemon Flavor, easy to take for Pregnant Mom's. Childlife Essentials understands the issues prenatal Mom's experience, especially when it comes to ingesting anything, and have formulated a Prenatal DHA, that works, and is easy to take. First we used a fish gelatin soft gel (most other brands use pork or beef gelatin).  Childlife Essentials Prenatal DHA also provides the purest DHA available, with no fishy smell or aftertaste. We then provide an all natural lemon flavor that tastes great which also makes it easier for Mom's to take.
ChildLife Prenatal DHA utilizes the highest quality fish oil. Childlife Essentials uses the finest processes available, such as molecular distillation, a process which extracts toxins and does not compromise quality. Each batch of Prenatal DHA is tested for PCB's, dioxins, metals, mercury and other toxins and exceeds all standards for the highest purity.  Fish oil is a safe and pure way to promote the optimal health of both baby and Mom.
Suggested Use:
Take 1 Soft Gel daily with meals.
ChildLife uses only the highest quality ingredients. This formula is Gluten free, casein free, alcohol free. Contains no milk, eggs, wheat, yeast, corn, peanuts, tree nuts, fish or shellfish. No artificial colorings, flavorings or sweeteners.
*This information has not been evaluated by the Food and Drug Administration. These products are not intended to diagnose, treat,cure or prevent any disease.
References:
1. Martinez M. Tissue levels of polyunsaturated fatty acids during early human development. Pediatr, 1992.120:S129-38.
2. Lauritzen L, et al. The essentiality of long chain n-3 fatty acids in relation to development and function of the brain and retina. Prog Lipid Res, 2001. 40:1-94. (Calculated using Table 1 data. 22:6n-3/Total n-3).
3. Salem, N Jr, et al. Mechanisms of action of docosahexaenoic acid in the nervous system. Lipids, 2001. 36:945-59.
4. Crawford MA. The role of essential fatty acids in neural development: implications for perinatal nutrition. Am J Clin Nutr, 1993. 57:703S- 709S.
5. Szajewska H, et al. Effect of n-3 long-chain polyunsaturated fatty acid supplementation of women with low-risk pregnancies on pregnancy outcomes & growth measures at birth: a meta-analysis of randomized controlled trials.Am J Clin Nutr 2006. 83:1337-44.
6. Makrides M, et al. Marine oil, and other prostaglandin precursor, supplementation for pregnancy uncomplicated by pre-eclampsia or intrauterine growth restriction. Cochrane Database Syst Rev 2006. 3:CD003402.
7. Smuts CM, et al. A randomized trial of docosahexaenoic acid supplementation during the third trimester of pregnancy. Obstet Gynecol, 2003. 101: 469-79.
8. "Pregnancy and Prenatal Vitamins," www.webmd.com/baby/guide/prenatal-vitamins, accessed December 3, 2010.