Laktoferrin - 100 MG - 60 CP by Ecological Formulas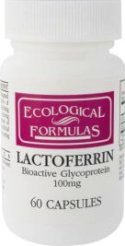 List Price:
$17.95
Sale Price:
$15.95
You Save:
()

Lactoferrin 100 MG - 60 CP - Ecological Formulas, Cardiovascular Research.
Each capsule contains Lactoferrin obtained from New Zealand grain fed cattle; 95% purity and low iron content. Hypoallergenic. An overwhelming amount of data supports lactoferrin's bacteriostatic or bactericidal activity, both in vitro and in vivo.
This supplement chelates free iron, needed by parasites and bacteria to invade tissues. Use of Lactoferrin reduces the pathogenic behavior of bacteria and parasites through this natural support of the immune system.
Suggested Use: Take one capsule twice daily, between meals, or as directed by a physician.
Ingredients: Each capsule contains: Lactoferrin (bovine) 100 mg.
Supplement Facts
Serving Size: 1 capsule
Servings Per Container: 60
Amount Per Serving
% Daily Value
Lactoferrin (a milk protein)(Bovine)
100 mg
**
*Daily Value Not Established
Other Ingredients: Gelatin, Cellulose,Magnesium Stearate, Silicon Dioxide
Lactoferrin is a scientifically designed supplement. This purified derivative of whey protein has important iron binding properties in human nutrition. Among the numerous functional properties of Lactoferrin are the promotion of beneficial intestinal flora through naturally occurring microbial action.