Herpanacine - 100 CP by Diamond Herpanacine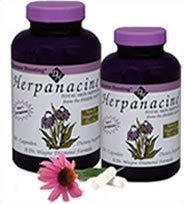 List Price:
$27.99
Sale Price:
$26.88
You Save:
()

SKU: DIA200
MPN: 1-100
UPC: 742710011005
Also Available:
Herpanacine by Dr. Wayne Diamond
Herpanacine is a natural support system, that was formulated by Dr. Wayne Diamond, a naturopath, psychotherapist, and health researcher in private practice in Philadelphia, Pennsylvania. While Herpanacine balances the skin holistically, it can be extremely important in promoting overall skin health.
In the formative stages of Herpanacine, it was discovered that when faced with chronic stress and poor nutrition, infections and various forms of skin breakdowns were far more common. To balance skin health and overcome potential infections, treatment had to address all the possible problems. Herpanacine and good nutrition accomplish just that task.
Herpanacine works to remove toxins from the body, cleanse the skin layers, balance the nervous system and overall body chemistry, and build the immune system to fight off future outbreaks. It has a cumulative effect, the longer it is taken, the more effective it becomes.
The skin is like a picture of our overall health. Appearing and feeling healthy, youthful, and free of eruptions improves self-esteem and gives you an over all feeling of well being.
Fight Skin Conditions! - Blood Cleanser! - Immune Boosting! - and more
Clear, healthy, beautiful skin... naturally!
Herpanacine Skin Support works to get to the root and the cause of skin outbreaks!
Trusted to work preventively in combating chronic skin conditions.
Millions have achieved an outbreak-free lifestyle with Herpanacine as it cleanses the skin layers and the blood, brings toxins out, balances the nervous system and bodily chemistry.
Herpanacine is building the immune system to support the body to fight off skin conditions.
Customers report IMPORTANT BENEFITS are greater energy & stamina, fewer illnesses and beautiful, healthy skin.
Credited with restoring self-esteem… another wonderful side benefit!
The most unique and effective formulation on the market!
Background: If you suffer from skin problems, you need to know about Herpanacine Skin Support System!   Nature's answer to skin health, Herpanacine was the brainchild of Dr. Wayne Diamond.  It was researched and developed in trials spanning nearly a decade.  Dr. Diamond worked with patients suffering from many different skin problems to find this perfect formulation of vitamins, herbs and antioxidants to fight off the conditions. As unique as it is effective, it has been on the market since 1990. Herpanacine heals the body and beautifies the skin... with a focus on PREVENTION! Highest quality ingredients, safely formulated and manufactured in an FDA-licensed facility for superior benefits and superior results! Experience the dramatic difference this exceptional formula will make!
Dosage: 2 to 3 capsules 3 times a day before meals or as directed by your health practitioner or pharmacist.
Supplement Facts
Serving Size: 3 capsules
Servings Per Container: 33
Amount Per Serving
% Daily Value
Calories
5
*
Vitamin A (as beta-carotene)
12,500 IU
250%
Vitamin E (as d-alpha-tocopheryl succinate)
100 IU
333%
Zinc (zinc gluconate)
20 mg
133%
Selenium (as sodium selenate)
50 mcg
71%
Herpanacine Proprietary Blend L-Lysine (as L-lusine HC), L-tyrosine, astragalus root, dandelion root, echinacea (partial parts), ligustrum berry.
1,400 mg
*
*Daily Value Not Established
Other Ingredients: Vegetable cellulose, calcium phosphate, vegetable magnesium stearate, silica and calcium silicate.
The Total Skin Support System... from the Inside Out!
Other Ingredients: Hydroxypropyl methylcellulose, stearic acid, microcrystalline cellulose, magnesium stearate, silicon dioxide.