Vitalzym+ 360 by World Nutrition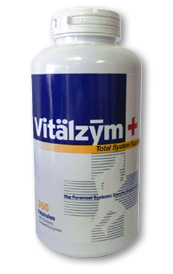 SKU: WOR760
MPN: 65615
UPC: 805034656151
Vitalzym+ is a heart healthy version of our original powder filled formula Vitalzym with the added health benefits of Magnesium. The powder filled capsule begins to breakdown in the stomach providing a digestive benefit while the buffer enteric coated serrapeptase bypasses the stomach and breaks down in the small intestine for a systemic benefit.
Vitalzym+ is a unique powder filled blend of magnesium citrate (300mg), protease, serrapeptase, papain, bromelain, amylase, lipase, rutin and alma. Vitalzym+ may provide nutritional support for reducing temporary muscle stiffness, maintaining proper muscle function and promoting heart health.
Vitalzym+ is available in a 360 count bottle and is distributed exclusively through healthcare practitioners.