VitalzymX 360 by World Nutrition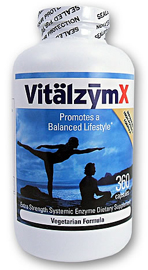 SKU: WOR650
UPC: 805034663609
VitalzymX is an extra strength and highly fibrinolytic version of Vitalzym, our original powder filled formula. Its unique blend includes even more serrapeptase and a highly active form of proteinase, enzymes with significant anti-inflammatory benefits. It is an all natural alternative to the non-steroidal anti-inflammatory drugs (NSAIDs) thought by many to be at the root of serious health concerns.
VitalzymX is considered a hybrid enzyme formula because it has both digestive and systemic characteristics. The powder filled capsule begins to breakdown in the stomach providing a digestive benefit while the buffer enteric coated serrapeptase bypasses the stomach and breaks down in the small intestine for a systemic benefit.
VitalzymX is available in a 360 count bottle and is distributed exclusively through healthcare practitioners.