Essential Fatty Acids - 8 OZ by ChildLife Essentials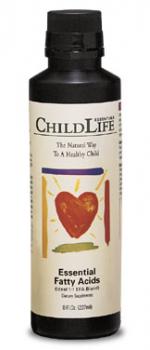 List Price:
$11.95
Sale Price:
$10.75
You Save:
()
Save even more with Volume Discounting:
| | | | | |
| --- | --- | --- | --- | --- |
| Qty | 1 - 2 | 3 - 5 | 6 - 11 | 12+ |
| Price | $10.75 | $10.52 | $10.37 | $10.23 |

SKU: CHIL20
MPN: 10250
UPC: 608274102507
Essential Fatty Acids by Childlife are fundamental and necessary nutrients just like vitamins and minerals. They are especially needed for immune function, cell growth and healthy skin. They are crucial for proper neuronal development as 50% of a child's brain is built from and by EFAs. (Refrigerated product requires shipping next day air.)
All aspects of your child's physical, emotional and mental growth and function are dependent on EFAs. Essential Fatty Acids are called essential because they are required for so many important functions in the body and brain, and because the body cannot manufacture them. These valuable nutrients are easily destroyed during the processing of foods, so supplementation is the only way to insure that your child will get sufficient EFAs.
Directions:
Shake well before use. For infants 6 months - 1 year...1/2 teaspoon daily, For children 1 year - 5 years.1 teaspoon daily, For children 5 years - 12 years.1-2 teaspoons daily, can be mixed with juice or food.
This refrigerated product requires shipping next day air. No Friday shipments unless Saturday delivery is requested.
Ingredients:
Unrefined, Virgin, Organic Flax Seed, Sunflower, Sesame, Pumpkin and Borage Oils Natural Butterscotch Flavoring.
Does Not Contain:
Dairy, Eggs, Yeast, Wheat, Corn, Alcohol, Artificial Colorings, Sweeteners, Preservatives.
Nutrient Analysis per teaspoon:
Omega-3 EFAs.1700mg,
Omega-6EFAs.1700mg,
Omega-9FAs.900mg,
Gamma-Linolenic Acid (GLA).11mg,
Mixed Tocopherols.2.2mg,
Mixed Carotenoids.220mcg.
Organically grown and processed in accordance with the California Organic Foods Act of 1990.
Cautions:
Do not cook with this oil or heat over 120 degrees Fahrenheit.
Use within 8 weeks of opening.
Keep Refrigerated. Shake Well. Keep out of reach of children.
Supplement Facts
Serving Size: 1 teaspoon (4.7g)
Servings Per Container: 48
Amount Per Serving
% Daily Value
Calories
42
Total Fat
4.5 g
7%
Saturated Fat
0.5 g
2%
Trans Fat
0 g
Polyunsaturated Fat
3 g
Monounsaturated Fat
1 g
Cholesterol
0 mg
0%
Sodium
0 mg
0%
Total Carbohydrate
0 g
0%
Protein
0 g
0%
Vitamin A
0%
Vitamin C
0%
Vitamin E
2%
Calcium
0%
Iron
0%
*Daily Value Not Established
ChildLife's Essential Fatty Acids supplies the optimum balance of vegetable based Omega 3, 6 and 9 fatty acids. This organic oil blend is delicately flavored to create an easy-to-take formula for children of all ages.

Essential Fatty Acids (EFAs) play a critical part in your child's physical, emotional, mental growth and well being. EFAs may influence brain function, immune strength, healthy skin and well being.* Include these plant-based, vegetarian Essential Fatty Acids as part of your child's daily diet by mixing with juices, smoothies, cereals, puddings of over pancakes or waffles (after cooking).