Purifying Cleansing WASH by Nelsons Pure and Clean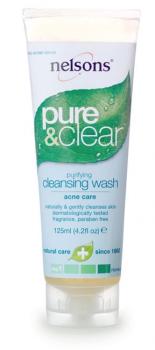 List Price:
$10.95
Sale Price:
$9.85
You Save:
()

SKU: NEL902
MPN: NH01600
UPC: 741273016007
A combination of the four main ingredients within a natural seaweed formula, the Purifying Cleansing Wash helps clear blocked pores.
How to use: Cleansing is where the secret to healthy skin begins. Massage into damp skin, using finger tips, in upward and outward circular movements avoiding the eye area. This helps draw all impurities up, out and away from your skin. Rinse thoroughly with warm water.
For a deeper cleanse & light exfoliation, soak a washcloth in warm water. Rest the washcloth over your face, relax and allow the heat to slowly open up your pores. Remove washcloth and, using your finger tips, apply face wash gently over the entire face avoiding your eye area. In circular movements, begin to cleanse with the washcloth, rinsing it thoroughly approximately every 20 seconds. Finish with a splash of cool water to close pores.
Active Ingredients: Arnica Montana tincture, Calendula officinalis tincture, Hypericum perforatum tincture
nactive Ingredients: Water, Polysorbate 20, Disodium Laureth Sulfosuccinate (vegetable source), Cocamidopropyl Betaine (coconut source), Carrageenan Seaweed) Extract, Phenoxyethanol, Benzyl alcohol, Xantum gum, Tea tree oil, Lavender oil, Limonene (essential oil source), Grapefruit oil, Linalool (essential oil source), Petigrain Oil.