Bone Strength - 60 CP by New Chapter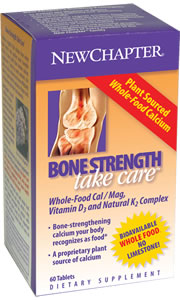 List Price:
$34.95
Sale Price:
$32.75
You Save:
()
Save even more with Volume Discounting:
| | | | | |
| --- | --- | --- | --- | --- |
| Qty | 1 - 2 | 3 - 5 | 6 - 11 | 12+ |
| Price | $32.75 | $32.33 | $32.07 | $31.80 |

SKU: NEW183
MPN: 0407
UPC: 727783004079
Whole-Food Calcium / Magnesium, Vitamin D3 and Natural K2 Complex
Available in 30, 60, and 120 tablet sizes
Bone-strengthening calcium your body recognizes as food*
Easy to digest, Easy to swallow size


The Whole Truth About Calcium Supplements
Many people think that all calcium supplements are created equal. The truth is that the most common form of calcium supplement today is derived from limestone. You don't eat rocks as part of your balanced diet, why would you choose to supplement your bone health nutritional needs with limestone?

Evidence suggests that calcium from whole-food sources may produce more favorable effects in bone health than isolated calcium supplements.* Similar to most nutrients, the body can utilize calcium much more effectively when it is paired with its natural co-factors such as magnesium and other trace minerals.

New Chapter is proud to deliver a calcium complex derived from whole food that delivers these key essential nutrients in their safest, most active form within the infinite complexity of whole food.
Our bodies understand and seek whole food sources of nutrition, not rocks, which is why New Chapter formulated this product with a whole-food plant source of this important nutrient complex. As whole food, it's easy on the digestive system.
The calcium complex in Bone Strength Take Care is derived from a specific plant form called Lithothamnion, harvested from pristine shores along the Icelandic coastline. Much like organic vegetables, this sea plant is allowed to mature naturally and then harvested to deliver its optimal nutritional value.
Synergistic Bone-Strengthening Nutrients
In addition to the whole-food source of calcium and magnesium, we have also added other bone-nourishing nutrients to complete the food complex. Vitamin K is an essential co-factor in calcium absorption and retention.* Human cell proteins that don't get enough vitamin K can't hold onto calcium, causing this critical nutrient to drift away from the bone.
The "calcium paradox" holds that without adequate vitamin K,
calcium will not be deposited in the bones where it is required
for maintaining bone strength, but rather in the arteries and
soft tissues where it can cause stiffening.
The form of vitamin K most active in the bones and arteries is natural vitamin K2. Vitamin K2 (MK-7), sourced from fermented whole food, gently redirects "lost" calcium back into the bone bank.
The Only Clinically Supported Natural Vitamin K2
Bone Strength Take Care contains the most bioavailable, bioactive, and longest-lasting form of vitamin K available.This form of vitamin K2 extracted from natto and has been clinically shown to promote bone health.
A single daily dose of 45mcg can ensure delivery
of K2 to all of the body's tissues 24 hours a day.

The complex is completed by vitamin D3, which has been found to aid in bone support and function in several studies.* New Chapter creates whole-food complexed vitamin D3 by culturing the nutrient with probiotics and organic whole foods.

Magnesium and trace minerals like silica, vanadium, and strontium have also been shown to promote bone health.* It is helpful to think of a "bricks and mortar" analogy. Calcium serves as the "bricks," while nutrients like vitamin K, vitamin D and trace minerals serve as the mortar. Without both "bricks" and "mortar," a strong physical structure, i.e. healthy bone, cannot be achieved.
Suggested use
Take 3 tablets with 8 oz. of water in the middle of a larger meal. For best results, take one tablet with lunch and two tablets with dinner daily.