Biodophilus Powder 124 Gm by MBi Nutraceuticals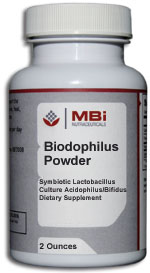 PROMOTE A HEALTHY GASTROINTESTINAL TRACT
Lactobacillus are a lactic acid bacteria meaning that they have the ability to transform sugar to lactic acid. The formation of this acid is one of the ways that the Lactobacillus bacteria inhibit the growth of pathogens such as E.Coli and candida albicans. They assist in the digestion process, absorption of nutrients, synthesis of certain vitamins, bowel function, detoxification and elimination of pathogenic organisms. Any upset in the balance of the microflora can lead to digestive problems such as bloating, gas, constipation, malabsorption of nutrients, deficiency of certain B Vitamins and Vitamin K. It can also lead to an overgrowth of pathogens such as candida and an increase in blood toxins, such as ammonia, which can put a strain on liver function.
RECOMMENDED FOR:
People who have taken a course of antibiotics

Women who take oral contraceptives

People travelling to exotic locations

Those who suffer from irritable bowel syndrome or similar conditions

People with candidiasis
RESSTABLISHMENT OF CORRECT BOWEL FLORA
Use Biodophilus with any condition requiring the reestablishment of correct bowel flora, i.e., parasites, fungal/yeast overgrowth, gastric inflammation, antibiotic therapy, constipation, or diarrhea.