Califlora Gel - 2.75 OZ by Boericke and Tafel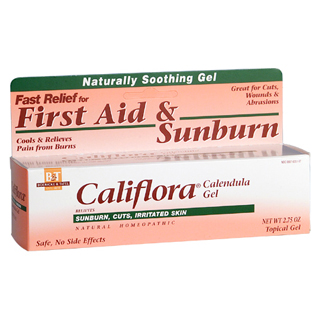 List Price:
$12.99
Sale Price:
$6.50
You Save:
()

SKU: BOE240
MPN: 21825197
UPC: 308078251974
Also Available:
Califlora Calendula Gel - Boericke & Tafel, Nature's Way
Califlora Calendula Gel is the ideal pain reliever for a wide variety of skin conditions including sunburns. It contains a therapeutic 10% tincture of calendula, an official homeopathic medicine prepared from the fresh, flowering tops of the annual herb Calendula Officinalis in accordance with The Homeopathic Pharmacopoeia of the United States (HPUS). Naturally Soothing Gel. Doesn't burn or chill. Safe, no known side effects. No animal by-products. Readily absorbed by the skin. No animal testing. No petroleum. Relieves Sunburn, Cuts, Irritated Skin.
Safe, No Side Effects
Herbal relief for First Aid & Sunburn Great fro Cuts, Wounds & Abrasions
Cools & Relieves Pain from Burns Indications: Soothes, cools, & temporarily relieves pain, itch, & symptoms of chapping, peeling, or scaling, from sun & windburn & minor burns, cuts, scrapes, abrasions, cracked lips, & skin irritations. Directions: For adults & children 2 years & older: Apply liberally as often as necessary. Children under 2: Consult a doctor. Active Ingredients: (HPUS): Aconitum napellus 3X, Hepar sulphuris calcareum 12X, Spongia tosta 3X, Stannum metallicum 12X. Lactose based tablets.
Naturally Soothing Gel
Soothes, cools, relieves sunburn, windburn, burns, cuts, chapped lips, skin irritations.
Calendula officinalis 1X10%