Alpha Cold & Flu - 1 OZ by Boericke and Tafel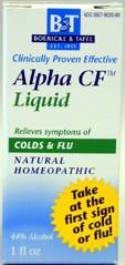 List Price:
$10.99
Sale Price:
$10.05
You Save:
()

SKU: BOE160
MPN: 21900190
UPC: 308079001905
Alpha Cold & Flu - Boericke & Tafel, Nature's Way
Natural Homeopathic For temporary relief of:
Fever, Body aches and pains, Chills, Headache, Coughing, Runny nose, Sneezing, Stuffed-up nose, Sore throat. Supplement Facts
Amount Per Serving % Daily Value
Ingredients:
(HPUS): Aconitum Napellus 4X 10%, Bryonia Alba 3X 10%, Eupatorium Perforatum 2X 10%, Gelsemium Sempervirens 4X 10%, Ipecacuanha 3X 10%, Phosphorus 5X 10%, Eucalyptus Globules 2X 4% Contains: 44% Alcohol Free of Antihistamines. Directions
Recommended use: Sublingual medication. Place drops under tongue directly from bottle or in small amount of water when mouth is in natural condition, at least 15 minutes before or half hour after eating, brushing teeth, or drinking anything except water. Adults and children 12 years of age and older: At first sign of cold or flu, 12 drops every hour and 25 drops before going to sleep. As symptoms subside, 12 drops every 2 or 3 hours until relieved. Children 6 to 12: Half adult dose. Children under 6: Consult a doctor.
Contains no antihistamines
Safe, Effective
No known side effects
Aconitum napellus 4X 10%
Bryonia alba 4X 10%
Eupatorium perfoliatum 2X 10%
Gelsemium sempervirens 4X 10%
Ipecacuanha 3X 10%
Phosphorus 6X 10%
Eucalyptus globulus 2X 4%