Bronchitis & Asthma Aide - 100 TB by Boericke and Tafel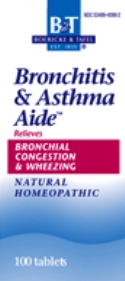 List Price:
$10.99
Sale Price:
$10.05
You Save:
()

SKU: BOE225
MPN: 21814098
UPC: 308078140788
*Bronchitis & Asthma Aide - Boericke & Tafel, Nature's Way
*Relieves Bronchial Congestion & Wheezing
*Helps Loosen Phlegm
*Drains Bronchial Tubes
*Safe, Effective
*No known side effects Indications: Helps loosen phlegm (mucus) & thin bronchial secretions to rid bronchial passageways of bothersome mucus & drain bronchial tubes. Temporarily relieves bronchial congestion & wheezing due to asthma & bronchitis. Directions: Sublingual medication, place tablets under tongue and let dissolve. Take at least a half hour before or after brushing teeth, eating, or drinking anything except water. Adults & children 12 & older: 2 tablets every two hours until relieved. Children 4 to under 12: Half adult dose. Children under 4: Consult a physician. Active ingredients (HPUS): Aconitum napellus 3x, Hepar sulfuris calcareum 12x, Spongia tosta 3x, Stannum metallicum 12x. Lactose based tablets.
Relieves bronchial congestion and wheezing.
Aconitum napellus 3X
Hepar sulphuris calcareum 12X
Spongia tosta 3X
Stannum metallicum 12X