Citrus Q10 100 - 60 TB by Douglas Laboratories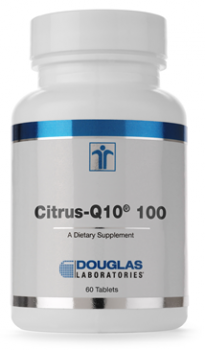 SKU: DOU380
MPN: 200053-60X
UPC: 310539031421
Supplement Facts
Serving Size: 1 tablet
Servings Per Container: 60
Amount Per Serving
% Daily Value
Natural Coenzyme Q10
100 mcg
*
*Daily Value Not Established
Other Ingredients: Mannitol, cellulose, povidone, citric acid, natural lemon/lime flavor, silica, vegetable stearate, natural orange flavor and sorbitol.
Citrus-Q10 100 may be a useful dietary adjunct for individuals whose coenzyme Q10 requirements are not met through biosynthesis of the molecule.
This product contains NO yeast,gluten, soy protein, milk/dairy, corn, sodium, sugar, starch.artificial coloring, preservatives or flavorings.