7 Keto - 60 VC by Douglas Laboratories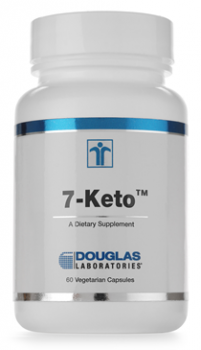 SKU: DOU100
MPN: 99246-60X
UPC: 310539022368
Supplement Facts
Serving Size: 1vegetarian capsule
Servings Per Container: 60
Amount Per Serving
% Daily Value
7-Keto™(3-acetyl-7-oxo-dehydroepiandrosterone)
100 mg
*
*Daily Value Not Established
Other Ingredients: Cellulose and vegetable stearate.
7-Keto may be a useful dietary supplement for individuals wishing to support a healthy weight management plan that includes an exercise program and healthful diet.
This product contains NO yeast,gluten, soy protein, milk/dairy, corn, sodium, sugar, starch.artificial coloring, preservatives or flavorings.