Ketsumeisei 3,000 mg - 30 pack by World Nutrition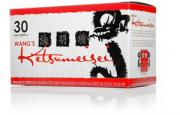 SKU: WOR400
MPN: 55030
UPC: 805030130303
Dr. Xianen Wang's Ketsumeisei
Recommended by the Embassy of the People's Republic of China in Japan and the Japan-China Society, Inc.
Chinese and Western medical science differ fundamentally in their systems for explaining the workings of the human body, but both have the shared objective of treating and alleviating disease. Thus, they do not exist in mutual opposition, but should be able to coexist harmoniously by reinforcing and supporting each other.
Normalized Blood Sugar Levels
Cardiovascular Support
Liver Detoxification
Mental Health
An herbal compound that affects the entire body, Ketsumeisei is taken for metabolic and microcirculatory disturbances. Clinical studies have shown that Dr. Wang's Ketsumeisei compound clearly decreases free fatty acids, which may contribute to insulin irregularities. Wang's special blend helps to maintain normalized blood sugar levels.*
Wang's Ketsumeisei blend is recommended by thousands of Japan's most respected healthcare professionals and is now available in North America. Though best known for its ability to modulate blood sugar levels, Ketsumeisei is also recommended for its cardiovascular benefits, liver detoxification properties, and positive effects on mental health.
Wang's Special Blend to help maintain normalized blood sugar.
Wang's Ketsumeisei is a unique blend of herb extracts formulated to help maintain normalized blood sugar levels and a healthy circulatory system.
We assure you Dr. Wang's Ketsumeisei of the highest quality. If you are not satisfied with the quality of this product, please consult an authorized distributor.
Proprietary Blend, Sicklepod Senna, Chinese Wild Yam, Safflower, Astragulus Root, Cape Jasmine Fruit, Kudzu Vine Root, Chinese Licorice, Chinese Ginseng. Contains no artificial colors flavors or preservatives. No wheat, gluten, soy, or talc.