Garlic Freeze Dried - 90 CP by Pharmax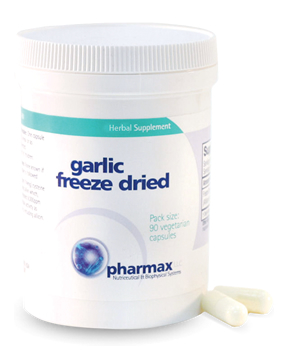 SKU: PHA365
MPN: PA02-90
UPC: 883196203703
Garlic Freeze Dried - 90 CP by Pharmax
An active concentrate of freeze-dried garlic rich in alliin and alliinase, which releases high levels of allicin directly in the gut when ingested and rehydrated.
Remarkable broad spectrum of antimicrobial activity against a range of problematic bacteria, fungi (including Candida albicans), viruses and protozoa.
No effect on the beneficial lactic acid flora of the gastrointestinal (G.I.) and genitourinary (G.U.) tracts.
Designed to be used freely in probiotic therapy alongside Pharmax s HLC range of probiotics as Garlic
Freeze Dried has minimal effects on the probiotic bacteria used in the HLC range.
When eaten, garlic has been shown to reduce platelet aggregation and is beneficial for the circulation,BR> Garlic is known to help lower serum cholesterol and triglyceride levels and increase high density lipoproteins (HDL s).
Safe with no toxicity to mammalian tissue.
Suitable for vegetarians and vegans.
Ingredients Per capsule

Freeze dried garlic concentrate (Allium sativum) providing 10mg allicin-forming potential 500mg.
Non-active ingredients Vegetable magnesium stearate, silica. Capsule: cellulose & water.

Recommended
One capsule taken daily with a meal or as professionally directed.
Keep out of reach of children.
Contra-indications None known if recommended intake is followed

Garlic Freeze Dried by Pharmax
The medicinal properties of fresh garlic have been known for centuries and it has been the mainstay Ďanti-infective of numerous civilizations through the ages. The problem that has arisen in presenting garlic as a supplement is the inherent instability of the initial active substance, allicin, which is created when a clove of garlic is crushed. Allicin is not found, as such, within the garlic clove. Instead, when the clove is crushed, allicin is formed instantaneously from the interaction of an enzyme called alliinase on a precursor of allicin called alliin. By selecting the highest quality garlic cloves, rich in alliin and alliinase, and then gently freeze-drying them, a concentrated powder is produced which only releases the prime active allicin component when ingested and rehydrated, i.e. all of the allicin is released within the gastro-intestinal tract. In Pharmax s Garlic Freeze Dried, this is exactly how the highest possible potency garlic is presented as a concentrate with all of the active components intact.
Supplement Facts
Serving Size: 1 capsule
Servings Per Container: 90
Amount Per Serving
% Daily Value
Freeze dried garlic (Allium sativum) clove
700 mg
+
*Daily Value Not Established
Other Ingredients: Hypromellose, silica, vegetable magnesium stearate.
Freeze dried garlic (Allium sativum) clove 700 mg

Other ingredients: Hypromellose, silica, vegetable magnesium stearate.