Otoplex - Otovowen - 45 ML by Weber & Weber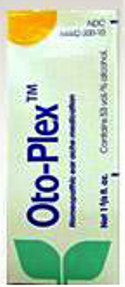 This product is temporarily unavailable.
We'll have more soon.
PRODUCT INFORMATION OtoPlex aka Otovowen is a combination remedy which includes tinctures and homeopathic potencies specifically selected for their broad spectrum approach to treatment of middle ear and upper respiratory tract complaints.
The active ingredients in the tinctures stimulate the cellular immune system and support healthy pain & inflammation effects.
The active components found in Echinacea inhibit hyaluronidase and the spread of bacterial infections. Echinacea mother tinctures prepared according to HAB 1 stimulate the non-specific cellular immune system both in vivo and in vitro. The flavonoids found in Elder leaves and flowers have a secretolytic effect on the mucosa of the respiratory passages.
Certain alkaloids in Canadian Bloodwort act to sedate the central nervous system and nerve endings.
Finally, the essential oils from chamomile support healthy inflammation response. The homeopathic potencies found in OtoPlex act to inhibit swelling and inflammation in the middle of the ear as well as in the oral and pharyngeal cavities.
Aconitum napellas (Aconite) is indicated in acute conditions with sudden onset which are accompanied by fever and anxiety.
Capsicum annum (Red Pepper) may be supportive as dietary supplement for conditions such as Otitis media, mastoiditis and mucsal inflammations in the oral pharyngeal cavities. After decades of use, no adverse side effects or interactions with other remedies have been reported, allowing you to safely prescribe OtoPlex to a wide range of children & adults.
INGREDIENTS: 100ml CONTAINS:
Echinacea purpurea tincture.............7.5 ml
Chamomilla recutita tincture...........2.25 ml
Sambucus nigra tincture................2.25 ml
Aconitum napellus 6X...................0.75 ml
Capsicum annuum 4X.....................0.75 ml
Hydrastis canadensis 4X................0.75 ml
Iodum 4X...............................0.75 ml
Mercurius cyanatus 6X..................0.75 ml
Sanguinaria canadensis tincture 1X.....0.75 ml
Ethanol.
RECOMMENDED USAGE: Adults, unless otherwise directed, in an acute state, take 12-15 drops hourly up to twelve times daily. Thereafter, 12-15 drops three times daily. May be diluted with juice, tea or water. Consult a physician for use in children under 12 years of age.