Noni - 90 CP by MBi Nutraceuticals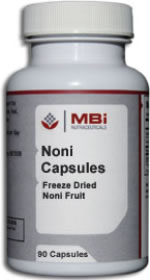 Noni Capsules by Molecular Biologics - MBi Nutraceuticals
Pacific Rim Cultures have used noni fruit for centuries as a remedy for everything from colds to headaches to menstrual cramps.
MADE FROM FREEZE-DRIED NONI FRUIT
Noni Juice is made from freeze-dried noni fruit (Morinda citrifolia) collected in the Hawaiian Islands. Freeze-drying fresh fruit eliminates the unpleasant taste associated with other types of noni fruit processing, at the same time preserving the integrity of the nutrients.
INCREASES ENERGY AND MENTAL ALERTNESS
Noni is traditionally used to increase energy and mental alertness. Noni fruit also supports the body s immune system and is used to help treat several types of bacterial infections. Noni is effective in treating a broad range of medical maladies because of the natural combination of vitamins, minerals, trace elements, and enzymes found in the fruit.
Noni Juice is beneficial for those who participate in strenuous activity. Noni juice will help increase your energy and strength during workouts and other strenuous activities. It is also a very powerful detoxifier.
USED TO TREAT CHRONIC PAIN, PAIN FROM HEADACHES, MENSTRUAL CRAMPS, AND ASTHMA AND ULCERS
Noni has been used by the people of the South and Central Pacific to treat many different conditions, including chronic pain, pain from headaches and menstrual cramps, and symptoms associated with asthma and ulcers.