Stomach Calm - 8 OZ by MBi Nutraceuticals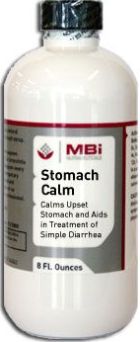 Stomach Calm - 8 OZ by Molecular Biologics - MBi Nutraceuticals
Calms upset stomachs, treats diarrhea and other intestinal problems.
STOMACH CALM IS USED TO HELP TREAT A VARIETY OF SYMPTOMS SUCH AS:
Dysentery, mucous colitis, intestines, spleen, spontaneous sweating in hands and feet, warms and invigorates the stomach, creates strength while promoting bowel movements, expells worms and parasites.
BESIDES TREATING VARIOUS STOMACH ALIMENTS IT IS ALSO USED FOR:
Chronic eczema, dermatosis, pruritus, ringworm, dandruff, scrofulosis, lymph swelling, wrinkles, varicose veins, bone degeneration or swelling, intestines and urogenital organs.
Active Ingredients
Aconite 4X, Argentum Nitricum 5X, Arsenicum Album 6X, Juglans Nigra 1X, Lycopodium Clav. 4X, and Nux Vomica 4X.
Inactive Ingredients
Deionized water, glycerin, imidazolidinyl urea, potassium sorbate, and sodium benzoate.