Super Citrimax - 60 CP by MBi Nutraceuticals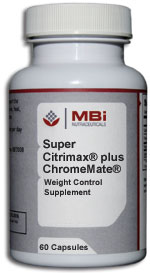 SUPER CITRIMAX PLUS CHROMEMATE WORKS NATURALLY
Super Citrimax plus Chromemate works naturally for weight control without stimulating the central nervous system. It is also non-habit forming and will not cause sleeplessness, nervousness, or rapid heart rate associated with diet stimulants such as Ma-Huang (ephedra) or caffeine.
Super CitriMax¨ is an all-natural, clinically tested weight control ingredient that can help:
reduce/maintain body weight
curb appetite
inhibit fat synthesis
ChromeMate¨ is a patented oxygen-coordinated niacin-bound chromium complex that:
promotes normal insulin function
promotes healthy blood sugar levels
promotes lean body mass
promotes healthy weight control
HIGH POTENCY SUPER CITRIMAX¨ WORKS BY INHIBITING THE ENZYMES THAT CONVERT CARBOHYDRATES INTO FAT
If not utilized for energy, carbohydrates are converted into fat and stored in the body. Super CitriMax¨ inhibits the conversion of carbohydrates into fat and promotes an increase in the formation of stored energy as glycogen. This also signals the brain to turn off hunger signals. New studies show that clinical strength doses of Super CitriMax¨ actually increase fat oxidation (""burning""), as well as brain serotonin levels, a neurotransmitter involved in mood, sleep and appetite control, which may help address many of the emotional issues overweight people face, including binge-eating and depression. No other HCA product has been shown to do this.
HUMAN AND ANIMAL STUDIES HAVE SHOWN THE ABILITY OF CITRIMAX TO TREAT OBESITY
In one double blind, placebo-controlled study, obese subjects consuming HCA had significantly greater weight loss than subjects consuming a placebo. The weight loss was primarily due to loss of fat.
Research has shown that Super CitriMax is absorbed and retained by obese subjects, with blood levels of HCA peaking two hours after ingestion and remaining in the blood for between four and nine hours after ingestion.
THIS UNIQUE COMBINATION HAS ADDITIONAL BENEFITS
When Super CitriMax, ChromeMate¨ niacin-bound chromium, and Gymnema Sylvestre extracta were combined, treatment groups also showed a reduction in low-density lipoprotein (""bad"") cholesterol and an increase in high-density lipoprotein (""good"") cholesterol, as well as a decrease in serum leptin levels.