CO-Enzyme Q10 - 100 MG - 30 SG by Ecological Formulas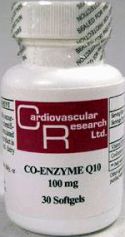 List Price:
$26.95
Sale Price:
$23.70
You Save:
()

SKU: ECO201
MPN: 100COQSG

Co-Enzyme Q10 100 mg 30 gels by Ecological Formulas - Cardiovascular Research.
Supplement Facts
Serving Size: 1 capsule
Servings per container: 30
Amount Per Serving:
Vitamin E (mixed tocopherols) 60 mg
Co-Enzyme Q-10 (ubidecarenone) 100 mg
Other Ingredients:
Soybean oil, lecithin, gelatin, glycerin, purified water, titanium dioxide, annatto seed extract.
Directions:
Take one capsule daily, or as directed by a physician.
Contains soybean oil.
This product is free of corn, yeast, wheat, and dairy products.
CoEnzyme Q10 is a naturally occurring food supplement. This scientifically designed supplement is formulated for maximal absorption.
Supplement Facts
Serving Size: 1 Softgel
Servings Per Container: 30
Amount Per Serving
% Daily Value
Co Enzyme Q-10
100 mg
**
Niacin (as niacinamide)
Other Ingredients: Medium Chain Triglycerides, Gelatin, Glycerin, Purified Water, Beeswax, Lecithin and Annatto suspencion in soybean oil.