Norival - 120 CP by Ecological Formulas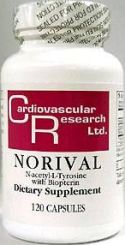 List Price:
$25.95
Sale Price:
$23.85
You Save:
()

SKU: ECO491
MPN: 120NORIVAL

Norival - Ecological Formulas, Cardiovascular Research.
The acetylated form of tyrosine is rapidly absorbed and highly bioavailable, particularly to slow-acetylators. Biopterin serves as the co-factor to tyrosine hydroxylase and other enzymes involved in catecholamine biosynthesis.
Each capsule contains:

N-acetyl-L-Tyrosine....................300 mg
Biopterin...............................25 mcg
Pyridoxal 5'Phosphate...................10 mg
Recommended Usage:
Take 1 or 2 capsules per day, or as directed by a health care professional.
Supplement Facts
Serving Size: 1 capsule
Servings Per Container: 120
Amount Per Serving
% Daily Value
Vitamin B6 (as pyridoxal-5-phosphate)
10mg
500%
N-Acetyl-L-Tyrosine
300 mg
**
Biopterin
25mcg
**
*Daily Value Not Established
Other Ingredients: Cellulose, Gelatin, Magnesium Stearate and Silicon Dioxide.
Norival is a scientifically designed supplement containing a special form of the amino acid, L-tyrosine in conjunction with the rare vitamin, Biopterin.