Immune Support Kit - 3 Bottles by ChildLife Essentials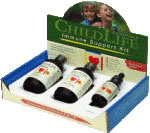 List Price:
$38.95
Sale Price:
$35.05
You Save:
()
Save even more with Volume Discounting:
| | | | | |
| --- | --- | --- | --- | --- |
| Qty | 1 - 2 | 3 - 5 | 6 - 11 | 12+ |
| Price | $35.05 | $34.28 | $33.81 | $33.34 |

Immune Support Kit - ChildLife
Great for Colds, Cough and Flu season. Buy the Immune Support Kit and save on buying each item individually.
The kit includes:
First Defense 4 fl oz
Echinacea (Orange Flavor) 1 fl oz
Vitamin C 4 fl oz

Child Life First Defense
Ingredients:
Purified Water
Glycerine
Citric acid
Grapefruit seed extract
Stevia
Potassium sorbate
Gum Arabic

Each teaspoon contains:
Colloidal Silver 12 ppm (99.99% pure, .001micron)
Olive Leaf Extract 80 mg
St. John's Wort 20 mg
Larch Arabinogalactan 15 mg
Zinc gluconate 8 mg (40% USRDA)

Suggested Use:
At the first sign of susceptibility
For infants 6 months to 1 year: 1/2 teaspoon 3 times daily
For children 1 to 12 years: 1 teaspoon 3 times daily.


First Defense is a unique Child Life formula consisting of carefully researched herbs and minerals known for their broad spectrum anti-infective and immune stimulating properties. The anti-bacterial and anti-viral properties of Colloidal Silver, Olive Leaf, Zinc and St. John's Wort have all been well-documented, and current studies show that Larch Arabinagalactan has an unparalleled ability to increase immune response and activity. For those concerned with the consequences of antibiotics, this formula offers a natural alternative.

Child Life First Defense can be used at the first sign of any acute symptom or susceptibility to infection, as well as periodically to increase natural defense responses. It provides immediate anti-viral and anti-bacterial action and extra support to strengthen your child's own natural defense system.

It is safe for infants and children of all ages. See product label for specific instructions for use.

Echinacea
Ingredients:
Echinacea augustifolia (organic)
Echinacea purpurea (organic)
vegetable glycerin
distilled water
natural orange flavor.
Standardized extract of .6 mg per ml.

Suggested Use:
At the first sign of susceptibility
For infants up to 1 year: 5 drops, 3 times daily
For children 1 to 12 years: 10 drops, 3 times daily.
Echinacea is well-accepted and respected as a primary immune system stimulating and strengthening herb. It is known to enhance the production and release of the body's own white blood cells, the immune cells of the immune system. This encourages a quick and effective response to both bacterial and viral infections. Child Life's great tasting orange-flavor Echinacea can provide extra support at the first sign of colds, flu's, sore throats, upper respiratory symptoms, sinusitis, and ear infections. Periodic use, especially during the winter months, may increase the overall strength of your child's natural defense system. See product label for specific and safe instructions for use.

Child Life's Echinacea is the only standardized echinacea formulated especially for children. This means that each bottle consistently contains the optimum levels of active ingredients. It is alcohol- free, organically grown and flavored with natural sweet orange essence.

Vitamin C
Ingredients:
Purified Water
Fructose
Ascorbic Acid (Vitamin C)
Glycerine
Natural Orange
Potassium Bicarbonate
Grapefruit Seed Extract
Stevia
Potassium Sorbate
Xanthan

Each teaspoon provides:
Vitamin C (ascorbic acid) 250 mg (416% USRDA).

Suggested Use:
For infants up to 1 year : 1/2 teaspoon daily
For children 1 to 12 years: 1-2 teaspoons daily.

Vitamin C is well-known for enhancing and stimulating natural defenses, immune system strength, and energy production. It is also known as a principal anti-oxidant, the need for which is greatly increased in children due to today's elevated environmental stresses and pollution. Daily use may provide protection against acute infection and help reduce susceptibility to recurrent colds, flu's and allergies. Supporting your child with Vitamin C can help to maintain and improve overall health.
ChildLife's delicious liquid formula can be taken alone or mixed with food or drink to add a healthful sweetness.
Why use ChildLife Vitamins and Supplements for your kids?
ChildLife offers complete nutritional supplement programs, it has extensive experience with infants and children's healthcare. Dr. Murray C. Clarke, who founded ChildLife and developed the product line, has been specializing in pediatrics in his homeopathic and clinical nutrition practice for the past fifteen years.
The ChildLife Essentials line of vitamins and supplements is literally the product of that experience. The products have proven most necessary and beneficial in supporting healthy development and promoting natural immune strength in infants and children.
Foremost among ChildLife's innovations are the two supplement programs developed to support children's needs. The Daily Maintenance Group provides a foundation of the essential nutrients needed on a daily basis for growth and healthy development. The Extra Support Group stimulates natural immune response and defends the body and is used during cold and flu season and also periodically to increase natural defense protection.
ChildLife Essentials vitamins and supplements are made from the highest quality natural ingredients. The good taste of the products makes taking nutritional supplements an easy part of a child's daily routine.
It also offers doctor-developed nutritional formulas you can trust, to help provide your infant or child with the best possible start in life. Along with a healthful diet and careful nurturing, the ChildLife Nutritional Supplement Program will support your child through the formative years and help create a solid foundation for good health throughout life.