Oxy-Mag Powder - 6 OZ by Teamwork Concepts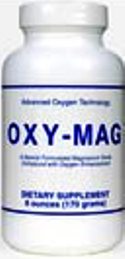 List Price:
$24.95
Sale Price:
$21.95
You Save:
()
Save even more with Volume Discounting:
| | | | | |
| --- | --- | --- | --- | --- |
| Qty | 1 - 2 | 3 - 5 | 6 - 11 | 12+ |
| Price | $21.95 | $21.38 | $21.02 | $20.67 |

SKU: TEA400
MPN: OXYM-AM6

Oxy-Mag by Teamwork Concepts
Used as an intestinal cleanse, nothing else works like this! Often used during fasting programs.
Oxy-Mag is the most readily available and easily usable method of complete oxygenation of the gastrointestinal tract. The process of oxidation is the most effective and safest way to break down, detoxify, and eliminate the solidified waste material that has accumulated in the small and large intestines. Oxidation actually breaks down this waste down into gas and water, lots of gas and water. An important thing to keep in balance here is your intake of antioxidant nutrients and enzymes, which should be called oxidation regulating nutrients and enzymes. It is vital to supply your body with these nutrients and all of the nutrients required for your body to be able to produce its own oxidation regulating enzymes. Thus we can enjoy optimum oxygenation without over-oxidation. No other cleansing method can come close to the benefits of oxygenation.
Directions
First thing in the morning or last thing at night (3-4 hours after your meal)
Mix 1/2 tsp. or more of Oxy-Mag into 1/4 cup of water. Squeeze half a lemon into it, stir then drink. Follow with a glass of plain water or juice.
Mix twice the amount of lemon juice as Oxy-Mag in water and drink (always maintain a 2 to 1 ratio of lemon juice to Oxy-Mag)
Do not eat or drink anything at least 1/2 to 1 hour.
To determine the amount of Oxy-Mag you require, remember that your goal is 6-10 watery bowel movements throughout the day. Remember to maintain 2 to 1 ratio of lemon juice to Oxy-Mag.
Supplement Facts
Serving Size: 1/2 teaspoon (1.58g)
Servings Per Container: 108
Amount Per Serving
% Daily Value
Magnesium
642 mg
160%
Sodium
38 mg
1.5%
*Daily Value Not Established