Tiny Tabs C - 240 TB by New Chapter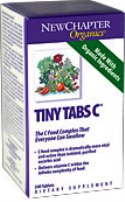 List Price:
$31.95
Sale Price:
$30.86
You Save:
()

SKU: NEW734
MPN: 0626
UPC: 727783006264
The C Food Complex that Everyone Can Swallow
Available in 240 tablet size
C Food Complex is dramatically more vital and active than isolated, purified ascorbic acid
Contains numerous immune supportive and synergistic polyphenols, bioflavonoids and phytonutrients*
Delivers vitamin C within the infinite complexity of food
We at New Chapter® provide you an organic probiotic alternative to isolated or USP vitamins and minerals. All of our vitamins and minerals are cultured in organic soy using nature's most prized and studied probiotics, featuring Lactobacilli acidophilus, bifidus, rhamnosus, and Saccharomyces cerevisiae. New Chapter's Probiotic Nutrients™ deliver biotransformed vitamins and minerals in their finest cultured form, much in the same way as miso, kefir, temphe, and yogurt. Your New Chapter nutrients:

• Are easy to digest, even on an empty stomach they're cultured whole food!
• Deliver essential nutrients in their safest and most active form within the infinite complexity of whole food.
• Provide an energizing and protective array of phytonutrients and ferment metabolites, including cultured soy isoflavones, beta glucans, bacteriocins, SOD, glutathione, lipoic acid, and enzymes.

Tiny Tabs C™ Food Complex delivers easily digested and highly active probiotic vitamin C as well as 15 free-radical scavenging and immune-supportive herbs and mushrooms cultured for maximum effectiveness. Herbs like astragalus and elderberry protect while antioxidant herbals cinnamon, rosemary and oregano provide key health benefits that support and sustain.* The addition of supercritical ginger and turmeric extracts maximizes bioavailability and efficacy.*

Your health, and the health of those you love, are precious and deserve the finest nutritional support. We welcome you to the living world of
New Chapter s Probiotic Nutrients a vital organic choice for the
fullest potential of life.
MADE WITH ORGANIC INGREDIENTS
Certified Organic by International Certification Services, Inc., USA
Suggested Use
Six tablets daily. Can be taken anytime, even on an empty stomach.
Supplement Facts
Six tablets contain
Probiotic Nutrients 
%DV
Vitamin C
150 mg
250%
Organic Cultured Herbal Extracts (Proprietary Blend)  

%DV
Immune Support Response [Astragalus (root) , Elderberry(berry) , Shiitake(mushroom) , Cordyceps (mushroom) ,Reishi (mushroom) , Maitake (mushroom) ]
24 mg

•

Antioxidant Response [Cinnamon (bark) , Fenugreek (seed) , Oregano (leaf) , Cumin (seed) , Coriander (seed) , Rosemary (leaf) , Clove (bud) , Allspice (berry) , Peppermint (leaf) ]
5 mg

•
Superfoods and Spices (Proprietary Blend) 

%DV
Organic Spinach (leaf)
29 mg

•

Organic Blueberry (fruit)
17 mg

•

Ginger (rhizome) 0.48 mg ethanolic extract, and 0.12 mg organic supercritical extract
.6 mg

•

Turmeric (rhizome) 0.48 mg ethanolic extract, 0.12 mg supercritical extract
.6 mg

•
• Daily Value not established
Organic
Nutrients are cultured in organic media that may contain: organic milled soy, organic yeast (Saccharomyces cerevisiae) - a natural source of PABA and SOD, organic maltodextrin, organic gum acacia, organic orange and organic lemon peel - natural sources of bioflavonoids, enzymes and Lactobacilli (L. acidophilus, L. bifidus, L. rhamnosus)
Other ingredients: Organic pre-gelatinized maize starch, silica, organic milled soy, and modified cellulose.
Contains: Soy
100% vegetarian; no artificial flavors or colors.