Bio-Fruit - 180 CP by MBi Nutraceuticals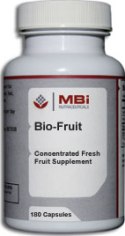 Bio-Fruit - 180 CP by Molecular Biologics - MBi Nutraceuticals
A unique blend of concentrated fresh fruits compressed into an easy-to-take capsule. We all know the importance of eating fruit daily and Bio-Fruit ensures that you get enough fruit on a daily basis for a balanced diet.
Bio-Fruit gives the body the phytonutrients found in 15 fruits including much needed antioxidants, bioflavonoids and enzymes. Bio-Fruit can also help lower overall pH.
THE FDA AND THE DEPARTMENT OF AGRICULTURE HAVE SAID TO CONSUME MORE FRUITS AND VEGETABLES EVERY DAY
Many people don't. Now get all that nutrition in easy to swallow capsules each day. Each capsule is equivalent to 3/4 ounce of fruit. It is recommended that each capsule is consumed with at least 4 ounces of water to fully reconstitute the fruit contained in each capsule. Bio-Fruit is a proprietary blend of juice extracts from oranges, pineapples, apples, tangerines, grapes, mangos, papayas, cranberries, grapefruit, pears, lemons, limes, cherries, strawberries, and apricots.
MONITOR BODY pH FOR OPTIMUM HEALTH
New research on the affects of pH on the body has shown that the body must maintain its pH within very strict limits in order to maintain optimum health. Some people may be too basic and because of it they may have problems with minerals depositing in the body. This problem can lead to gallstones, kidney stones, bone spurs, fibromyalgia, and arthritis.
BIO-FRUIT PROVIDES THE FOLLOWING NUTRITIONAL BENEFITS:
It can help lower your overall pH
It increases energy levels in the body
It improves immunity
It improves your general joint health and mobility
It contains powerful antioxidants that protect the body from free radical damage and helps to reduce the signs of aging
Promotes a healthy heart and liver by balancing the pH of the body
Encapsulated highly concentrated fruit juices are assimilated rapidly by the body for quick results
Recommendations
As a dietary supplement, take three to six capsules per day following meals or as directed by your health care professional.
Synergistic Products
C-1000 TR
C-3000 Complex
Ingredients
Serving size 6 capsules
Servings per container 30
Orange juice, Pineapple juice, Apple juice, Tangerine juice, Grape juice, Mango juice, Papaya juice, Cranberry juice, Grapefruit juice, Pear juice, Lemon juice, Lime juice, Cherry juice, Strawberry juice, Apricot juice.
"